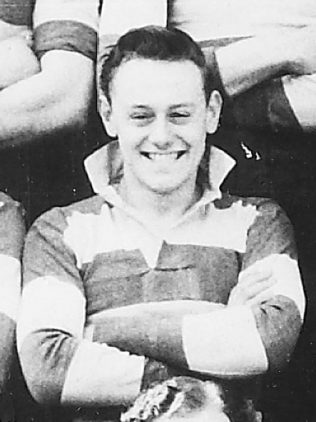 The CRABTREE Family: Brothers Charles ('Charlie') Percy Crabtree and Noel John Crabtree
The sons of Percy Herbert and Violet (née Brown) Crabtree. Percy had been born in Yorkshire in 1897 while Violet came from Gloucester. The family lived in Gloucester but by 1931 had moved to Neath where Percy was employed as Clerk at the Ministry of Labour.
Charles ('Charlie') Percy Crabtree was born in Gloucester in 1925 but soon moved to Neath where he was educated. After attending Neath Technical College he returned to Gloucester in 1941 and became a student at Gloucester Technical College. He married Eileen Shepherd at Gloucester in 1952 and the couple had two sons. The electoral registers show that the couple lived in Hucclecote from the early 1960s up until his death. Charlie died on 15 December 2008 aged 83 years. Charlie represented the Gloucester First XV on the wing in 171 matches from 1945 to 1952, scoring 84 tries and amassing 252 points. He also won three Gloucestershire County caps.
Noel John Crabtree was born in Neath on 21 December 1931. He gained his early educated in Neath but after his father died in 1942 the family returned to Gloucester. He subsequently became a student at Gloucester Technical College in 1950 and passed his examinations in Book Keeping. He married his wife, Dorothy, and remained in Gloucester for the rest of his life and died on 30 July 1985 aged 54 years. He played 2 games on the wing for the Gloucester First XV in 1954.
Go to Crabtree Family Tree (Pedigree)