A'BEAR, Charles Winston, 1916-1985 Military Medal (M.M.)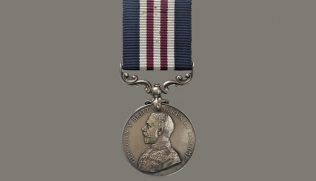 Military Highlights:
Charles Winston A'Bear won the Military Medal (M.M.) at the Battle of "Knightsbridge" in Libya in June 1942, while serving with the Royal Gloucestershire Hussars (RGH), as part of the 7th Armoured Division of the  8th Army. Charles won the medal, as a Sergeant in H Squadron, 2nd Battalion RGH, for rescuing his troop leader 2nd Lt J.R. Proctor. The 2nd Bn RGH later in September 1942 played a large part in the victorious Battle of Alam El Halfa Ridge, which arguably marked the turning point of the war against Rommel's Afrika Korps in North Africa. It was also the 2nd Bn RGH's last action as a unit, as in its year of service in North Africa, it sustained 257 casualties, gained six battle honours and saw 40 of its "Yeomen", including Charles, decorated for valour. However, many members of the RGH, including Charles, went on to fight in other parts of the world, with other regiments and with better equipment than the fast but unreliable Crusader tanks they had in North Africa. Charles was commissioned as 2nd Lieutenant into the Royal Tank Regiment/Royal Armoured Corps in May 1943 and was promoted to Lieutenant in November of the same year. Charles is described as "an efficient and ever-popular tank commander".
To commemorate the sacrifice paid by the Royal Gloucestershire Hussars, in 1969 the Black Swan public house, on the corner of Southgate Street and Commercial Road in Gloucester, was renamed "The Yeoman", when it became the city HQ of the RGH Old Comrades Association. The public house's new sign featured a tank commander of the RGH c1942 wearing goggles on his forehead and holding a pair of binoculars while peering into the distance from his turret. And it depicted not just an idealised tank commander, but Charles A'Bear himself. During the 1990s this public house changed its name back to "The Black Swan", but the sign showing Charles A'Bear has been preserved and is still on display in the Soldiers of Gloucestershire Museum in Gloucester Docks.
Rugby and Other Highlights:
Charles Winston A' Bear is described as "a great rugby player" and as one "who played rugby for Gloucester before the World War 2". At this time Charles was a policeman and his opportunities to play rugby at a high level were more limited than those of his elder brother John O'Bear (1913-1979), who was Gloucester's youngest captain from the age of 24 between 1937 and 1939. During WW2 Charles played for Gloucester, as a back row forward, against RAF XV on 11 January 1941. Charles's father, James Horace A'Bear (1879-1945) was a member of the committee of Gloucester RFC for many years.
Post-WW2 Career
(added by Chris Brind, 17 Feb 2015)
On returning to civilian life in 1945, Charles, who had become "articled" to be a solicitor before WW2, embarked on a legal career in Retford in Nottinghamshire. Firstly he joined the former firm "Clay, Allison and Clark" in Retford as a solicitor. Subsequently, Charles moved to another legal practice in Retford, "Hayes Son and Richmond", where he was a partner and consultant at the time of his death in 1985.
Charles A'Bear, distinguished rugby player, soldier and lawyer, will always be remembered by the above-mentioned Whitbread pub sign from "The Yeoman",  showing a Royal Gloucestershire Hussar, reputed to be Charles, in a tank c1942, which is displayed in the Soldiers of Gloucestershire Museum www.soldiersofglos.com .
With grateful thanks to Charles' elder son Mike A'Bear for his kind comments on this profile and to his younger son Peter A'Bear for his helpfulness and information on his father's post-WW2 career.
With grateful thanks also  to David Reed and Chris Chatterton, Archivist and Manager of the Soldiers of Gloucestershire Museum in Gloucester Docks, for their knowledge and encouragement.