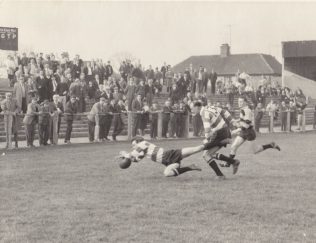 Bob Timms scores in front of The Tump at Kingsholm
Bob Timms made 160 appearances for Gloucester on the wing in 1958-1965 and played a final season as captain of Gloucester United. He played for Gloucestershire in 1959.
Bob Timms was born into a farming family at Tuffley, Gloucester on 14 June, 1938. He learned his rugby at The Crypt School where he played hooker and, on leaving school, played first for Widdon Old Boys at outside half and centre and then Old Cryptians on the wing, where he was named "best young player of the season."
Described as a "big tall gangly left-winger with good pace" he joined Gloucester in 1958 and made his debut for the club 1st XV in February 1959 at Swansea playing against the great Welsh international winger Dewi Bebb. His Kingsholm debut against Pontypool came the following week.
Bob gained a first team place at the start of the 1959-60 season and made an immediate impact. He was selected to play for Gloucestershire against Devon at Bristol on 14th November 1959. He scored a try and was perhaps unlucky that this turned out to be his only cap.
He featured strongly in a young and much-changed Gloucester side, in which Terry Hopson, Dick Smith and Allan Townsend were also making their mark. Under Peter Ford's captaincy, they won 13 matches in succession between October 1959 and January 1960 to create a new club record.
Coming from a farming family, Bob Timms once played for an International Farmers XV, alongside England internationals Ron Jacobs and Dicky Jeeps, scoring three tries.
Bob scored 50 tries during his Gloucester career and among his more memorable performances were hat tricks at Kingsholm against Cardiff and at Leicester, the latter sparking the headline "Timms Tames Tigers" which his team mates would never allow him to forget.
At the end of his career he captained Gloucester United and appeared at wing forward before retiring from the game in 1965-66.