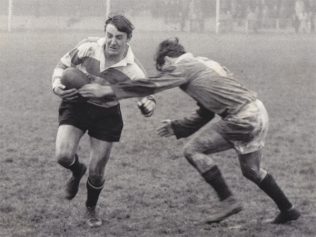 Terry Hopson was a mercurial outside half who in the 1960s formed one of the great half back partnerships in club and county Rugby with Mickey Booth. Terry Hopson was noted for the length of his touch kicking and his ability to break, He played 315 times for Gloucester between 1959 and 1971, was a regular selection for Gloucestershire and played for Western Counties against the All Blacks, Wallabies and Springboks. He also played for Bath.
J. T. "Terry" Hopson was born in Gloucester in 1939 in the area of Kingsholm known locally as Clapham. His father J Hopson played hooker for Gloucester in the immediate post war period. Terry was educated at Central Technical School and played for Spartans youth team and then for Gordon League.
His father, a publican working for the Whitbread Brewery, moved to Bristol in 1957 and Terry made his debut in first class Rugby as a centre for Bath, where he played for two years. When his father returned to Gloucester to take over the Talbot Hotel, Terry joined Gloucester RFC, making his debut at outside half in 1959.
As an established first class player, Hopson broke into the first team and almost immediately established the half back partnership with Mickey Booth that was such a feature of Gloucester Rugby in the 1960s. Throughout the Booth – Hopson years  Gloucester were accused of  playing "ten man Rugby", but very effective Rugby it was, based on a mighty pack, the fine service and sniping runs of Mickey Booth and the immaculate kicking and occasional dazzling breaks of Terry Hopson.
Terry took a little longer to break into county Rugby, eventually replacing John Blake of Bristol and resuming his partnership with Mickey Booth at county as well as club level. In December 1963, only three days after being given a hard time by the Somerset pack at Kingsholm, he played a leading role in a Western Counties side which led until the last few minutes against the All Blacks at Bristol before going down 22-14. The All Blacks rated Booth and Hopson the best half back partnership that they had faced on the tour.
Terry Hopson continued to be first choice for Gloucester throughout the 1963-64, 1964-65 and 1965-66 seasons. In 1966-67, however, he played less frequently for the club but had an outstanding game again for Western Counties against the Wallabies at Bristol, kicking six points in a 9-0 win and being brought down a few inches from the Australian line.
Unhappy with the club's selection policy, he resigned from Gloucester in February 1968 and had planned to return to local Rugby with Gordon League, when he was approached by Bath. He returned to the Bath club, commuting weekly from Gloucester for most of the following year and playing for Bath in a win over Gloucester at Kingsholm.
The 1969-70 season was a fine one for Terry Hopson. Back at Kingsholm, he was a regular selection both for Gloucester and for a Gloucestershire side that reached the final of the County Championship. He also, once again, played a leading role in the Western Counties side which drew 3-3 with the Springboks at Bristol.
In 1971, returning from injury, he broke his leg ten minutes into a game at Kingsholm, which ended his career.
Terry Hopson lives locally and still follows Gloucester.