Smith, Charles Albert "Whacker"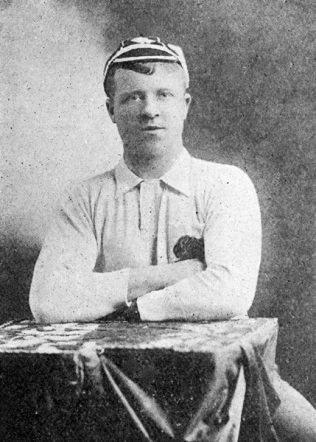 Charles Albert Smith was born in Gloucester on 18th July 1878, the son of a corn porter. His father died when he was aged six, and remarried when he was eleven.
Charles developed into a sturdily built, auburn-haired, left wing, known to one and all by his nickname "Whacker". He played for Gloucester from 1897 to 1908, making 270 appearances, and scoring 142 tries. He was a formidable character – a contemporary assessment said "Whacker is fairly fast, kicks well, and tackles magnificently, and when near the line is difficult to stop" -"most resolute whatever conditions face him". His defence may have been his main claim to fame, but he also broke try-scoring records and won a cap for England.
Whacker's debut in first-class football was made against Newport on 6th March 1897; Gloucester lost 0-3 at Kingsholm and it was his sole appearance that season, although he did also play 2 games and score three tries for the A team. He made six appearances in 1897-98, his first against Stroud on 26th February 1898, and the second against Weston-super-Mare; he played eight games and scored four tries for the A team.
In 1898-99, Whacker became a more regular fixture in the first team, playing 18 games and scoring four tries. The Club's record was won 27, lost 6, drawn 1, with points for 300 and against 116. WB summarised it as "a brilliantly successful season, and one which will form one of the brightest chapters in the history of the Club." Of Whacker himself, WB wrote: "Of the other men who appeared in the three-quarter line, Whacker Smith was the first reserve. Smith is more of a sound than brilliant or showy player, but he performed creditably in a number of matches. Undoubtedly his best game was against Newport, when the famous Usksiders were beaten by 11 points to nil."
In 1899-1900, Whacker secured a permanent place in the 1st XV, making 28 appearances out of the 32 matches played by the Club, and scoring nine tries.  WB summarised Whacker's season as follows: "Whacker, as he is familiarly known to the football public, was undoubtedly the strongest right wing in the county, and his selection for the whole of the fixtures was a fitting testimony to his all-round abilities. Defence, perhaps, is Smith's great forte, but he has scored some splendid tries during the season, one of his finest efforts being against Treherbert." During that season, he scored in the 13-0 defeat of the Barbarians at Kingsholm on 12th April 1900, his try being described as: "the ball was punted to Weaver (Birkenhead Park) who essayed a flying kick. Whacker Smith ran and fielded the ball nicely, and running round scored in the corner."
He also made his mark with Gloucestershire, winning his first cap against Midland Counties on 19th October 1899, scoring his first try against Devon on 18th November, adding another against Durham, and finishing the season with six County caps.
The Club went through the season unbeaten at home in 1900-01, the first time they had achieved this feat since moving to Kingsholm ten years earlier. Whacker, by this time employed as a lighterman, played his part in this success, playing in 24 of the 34 fixtures, and registering third on the list of try scorers with 15. This included two in the first match of the season against Clifton, and a hat-trick against Old Edwardians in the third. He went on to score the only try in several matches – in a 5-0 away win at Leicester, to secure a 3-3  draw at Bristol, and in a 5-3 win over Treherbert. He also scored two apiece against Penarth and Rockcliff. WB reported that "One of the most pleasing features of the season has been the admirable work of the three-quarter line. Both in attack and defence the quartette have proved wonderfully effective, and Clutterbuck, Stephens, Cook and Whacker Smith are deserving of all the praise that has been bestowed on them. No four players have ever worked better together, and when at the top of their form they took a lot of beating…..Clutterbuck and Whacker Smith formed two exceptionally strong wing men, and Gloucester are fortunate in the possession of such dashing players…..Smith who again proved himself one of the best wing three-quarters in the West of England, played some great games during the season, and his deadly tackling frequently saved the team from disaster."
He made three appearances for Gloucestershire in 1900-01, against Midland Counties, Cornwall and Somerset, all three games being won comfortably; Whacker scored two tries against Midland Counties and one against Somerset. This helped to bring his sterling qualities to the attention of the England selectors, and he was selected for two trial games, for the Rest of the South v London and the Universities, and for the South v the North. This resulted in his being picked for England on the right wing for the match against Wales at Cardiff on 5th January 1901, with the declared aim of his selection being "to stop the Welsh backs scoring". WB reported that: "Whacker's display for England against Wales did not please the northern critics, but the Gloucestrian was badly served owing to the poor form of his centre. Despite this fact, Smith did some splendid defensive work for which, however, he got little credit." Wales won 13-0, and it was to be Whacker's only international cap.
In 1901-02, Whacker opened the season with eight tries against Clifton, which set a new individual try scoring record. This has never been matched since.  He also contributed to a total haul of 18 tries by Gloucester in the match, which also set a new record, which has been equalled twice since (against Exeter in 1975 and against Guy's Hospital in 1977) but never beaten. He scored two further tries in the second match of the season against Old Edwardians, and another at Northampton in the third match; only a 0-0 draw against Newport in the fourth game brought this try fest to and end. Later in the season he scored four tries against Stroud, two ties apiece against Coventry (home and away), Bath, Penarth (home and away), Northampton, London Welsh, and finished the season as the leading try scorer with 29 from 27 games. It is perhaps no surprise that when Whacker was laid up for a period, the Club forked out 7s 6d in massage expenses for him.
This contributed to a very successful season for the Club, invincible at Kingsholm, and overall winning 24 and losing 7 of their 34 matches, whilst scoring 542 points against 103. WB summarised Whacker's season as: "Smith stands out for special recognition, not only for the new records he has set up (8 tries in one match, against Clifton, and an aggregate of 29 for the season, as against Clutterbuck's 23 last year), but for his sterling play during the greater part of the season. Defence has always been regarded as Whacker's forte, but the popular three-quarter has shown that when properly served he is a very dangerous man in attack. No player, perhaps, has been so knocked about as Smith – due to his fearless stopping and deadly tackling – and no doubt this affected his play in several games."
For the County, he played in all their matches – against Midland Counties he scored a try in the 26-3 win; his two tries against Cornwall at Camborne won the game 6-3; but he did not score in the draw with Somerset, the win against Devon or the 3-9 loss to Durham in the County Championship Final played at Kingsholm on 5th April 1902. He was selected again for an England trial with the Rest of the South v London and the Universities, but he progressed no further, and his solitary appearance at Cardiff proved to be his only international cap.
Although Whacker missed out in the opening fixture of the 1902-03 season against Clifton, he scored four tries in the second match against Old Edwardians. Later in the season he scored three in the two matches against Coventry, and was top try scorer with 14. He appeared in 32 of Gloucester's 36 matches, but a spate of injuries in the team caused him to be played out of position on a number of occasions, and he suffered from the lack of a regular centre partner. Despite two further caps for Gloucestershire, this was a relatively disappointing season for Whacker, for the Club and for the County. WB thought that "Smith's general play showed a falling off, his defence, though invaluable still, not being so sound as in former years."
Whacker was again an almost ever present in the Gloucester side in 1903-04, playing in 30 of the 34 matches. He scored 19 tries, making him comfortably the team's leading try scorer again, his most notable effort being six in a 49-0 victory against Clifton, who must by then have been heartily sick of the sight of him. WB reported that: "Whacker Smith has filled the right wing position pretty regularly, but the old International was a long time finding his true form. Just about Christmas time Smith came out of his shell, and showing all his old fire and dash, scored a dozen tries in a very few matches. Whacker again heads the list of try-getters for the third year in succession."
Whacker remained fit in 1904-05, and turned out in 32 of Gloucester's 36 matches. He scored 16 tries, but was second on the list to Arthur Hudson, who had burst onto the scene with a remarkable 35. Whacker started well again with two tries against Old Edwardians in the first match, but again he scored most of his tries in the second half of the season, with three against Clifton at Kingsholm, and two away; he also scored twice against Lydney. Gloucester enjoyed a good season, and WB explained that: "At three-quarter, Gloucester had a splendid quartette in Whacker Smith, E Hall, J Harrison and A Hudson, and they have been voted one of the cleverest lines ever possessed by the Club. True, the men were lacking in pace, but they combined beautifully, and some of their displays equalled anything given by a Welsh team. Smith, the veteran of the side in point of service, has again done grand work in defence, and in this department he still stands out as one of the finest players in the West of England. Whacker has this season to take second place in the scoring table, but the old International will not begrudge Hudson his success, for it has been thoroughly earned."
Whacker played in 33 of the 37 fixtures during the 1905-06 season, when the Club broke several records, winning 26 matches, and scoring 661 points against 165. In any normal season, Whacker would have been the leading try scorer with 27 in any normal season, but Arthur Hudson broke his record with 41. Whacker's most productive matches were five tries against Plymouth, three against Penylan and Bream (in the County Cup), and two against Bedford, Cheltenham, Old Merchant Taylors, Leicester and Cinderford. At the end of the season, WB wrote that: "Whacker Smith, the veteran of the three-quarter line, has kept up wonderfully well; in fact, it is generally admitted the old International has played better football this year than at any time in his career. He is a good second in the list of try-getters, and any wing three-quarter capable of scoring 27 tries in a season must be counted a pretty useful player."
The biggest match of the season was the visit of the All Blacks to Kingsholm, and Whacker had the honour of playing against them. The visitors proved far too strong for a Gloucester side which suffered injuries before and during the game, and received a battering to the tune of 0-44. Nevertheless, in retrospect many of the Gloucester players regarded the match as the highlight of their rugby careers.
After an absence of more than two years, Whacker was restored to the County side for the last match of the season, when they had failed to register a single point in their previous two County Championship matches – that dismal record continued with a 0-0 draw against Cornwall at Redruth.
Whacker's star started to fade in 1906-07, when he played in 18 matches, but scored only one try, against Old Merchant Taylors on Boxing Day. He also kicked the one and only drop goal of his career at Stroud. Gloucester won 10-3, but WB reported it to be: "a most unpleasant game. Stroud realising their ground record was gone played very rough, four players being ordered off." Of his season as a whole, WB wrote: "Whacker Smith, the veteran of the team, has been very unlucky in the matter of accidents, but in the eighteen matches the old warrior assisted he rendered a good account of himself. His defensive powers are still pretty formidable, and few of the youngsters can give him points in any departments of the game. Whacker has been a cripple for several weeks past as the result of the injury he sustained in the cup tie with Bristol, but his football days are not over yet, and he hopes to have one more season at least, unless the Club can secure the services of a better man."
On 3rd November 1906, Whacker was originally selected as reserve, but received a late call-up to play for Gloucestershire against the South Africans at Kingsholm. He was soon in the action: "Loubser sailed away in grand style; Wood only partially checked the dashing right wing, but "Whacker Smith got across, and brought off a superb tackle"….. "Whacker Smith stopped Le Roux when he looked all over a scorer" and ….."Hirsch, after one grand effort, was pounced upon by Smith and Wild on the line, and a try saved", but the nature of the game was such that all his contributions were defensive – "Whacker Smith put in some deadly tackles, but he was beaten more than once by the speed of the opposition", andthe visitors ran out 23-0 winners. A week later, on 10th November 1906, Whacker turned out for the County again, when they lost 8-15 to Devon at Exeter – this was to be his last game for Gloucestershire.
Whacker did manage the one more season with Gloucester, making 21 appearances in 1907-08, and scoring six tries, his last coming against London Welsh on 18th January 1908. Having played his first game against Newport, he was anxious to play his last game against them as well, on 28th March 1908. However, an injury sustained a week earlier prevented this, and that game against Cheltenham on 21st March 1908 proved to be his last. He completed his Club career with 270 appearances, 142 tries, one dropped goal, and 430 points. He won 20 County caps with Gloucestershire, scoring nine tries, and won one cap for England.
During eleven seasons for the Club, he rendered splendid and loyal service, always putting the Club first, even at inconvenience to himself personally. For three seasons Whacker topped the list of try-scorers in 1901-02, 1902-03 and 1903-04, and he was second to Hudson in 1904-05. He scored 8 tries in one match (against Clifton in 1901-02), which is the individual record for the Club. He also scored six tries on another occasion against the same team, five against Coventry in 1903-04, and five against Plymouth in 1905-06. These scores show that he was a strong force in attack, but it was in defence that Whacker made his name. For several years he held the reputation of being one of the finest tacklers in England, and Welsh players especially had reason to remember him in this respect. All through his career Whacker played the game as it should be played, and he was one of the fairest and straightest of men both on and off the field.
The following letter was sent to Whacker by H G Brown, Secretary of the Gloucester FC on 25th March 1908:
"Dear Sir, My Committee received your letter of 23rd, in which you propose resigning your position as a playing member of the Club. They accept your resignation with great regret, and at the same time they wish me to convey to you their best thanks for the time and services you have so willingly given for the interest of the Club and sport generally. They also appreciate your good wishes for the future of the Club."
WB wrote the following tribute in the Citizen:
"Whacker's" withdrawal cannot but give cause for regret, for he has been one of the most popular figures in the Gloucester team for quite a long period, and both at Kingsholm and on visiting grounds he will be greatly missed. Smith's football career has been a distinguished one, for in addition to playing 270 games for Gloucester City, he has represented the county on 20 occasions, and gained both his South and International caps. "Whacker's" debut in first-class football was made against Newport on March 6th 1897, and he was anxious to make his exit on the occasion of the recent meeting with the redoubtable Usksiders, but an injury sustained against Cheltenham prevented the veteran appearing in to-day's game at Kingsholm.
In the long list of successful footballers that have represented Gloucester "Whacker" Smith will take a high place, and his splendid and loyal services to the Club will no doubt be recognised in the proper way. His connection with the City premier team has extended over eleven seasons and during that time he has always put the Club first, even at inconvenience to himself personally. For three seasons "Whacker" topped the list of try-getters 1901-2, 1902-3, 1903-4, and he was second to Hudson in 1904-5; whilst he scored eight tries in one match (v Clifton, 1901-2), which is the individual record for the Club. He also scored six tries on another occasion against the same team, five v Coventry in 1903-4, and five v Plymouth in 1905-6. These scores show that the Gloucestrian has been a strong force in attack, but it was in defence that "Whacker" made his name. For several years he held the reputation of being one of the finest tacklers in England, and Welsh players especially had reason to remember him in this respect. All through his career "Whacker" played the game as it should be played, and he was one of the fairest and straightest of men, both on and off the field. The veteran goes into retirement full of honours, and with the knowledge that he has done his share towards maintaining the reputation of Gloucester in the Rugby football world."
The report on the Club AGM in June 1908 noted that: "Before the meeting closed the Chairman said he had a very pleasing duty to perform, and that was to present Mr C Smith with a testimonial subscribed for by members and friends in recognition of the splendid services rendered by the veteran to the club. The appeal for subscriptions met with a hearty response, and the total sum collected was £47. The recipient had been consulted as to what he would like, and had chosen an English lever watch and gold chain as an instalment, the balance being invested for another present later on. The inscription on the watch was as follows: "Presented to C Smith (Whacker) in recognition of eleven years splendid service with the Gloucester Rugby Football Club. June 12, 1908." Mr Brown paid a high tribute to Smith's long and excellent services, and to his ability as a player. Whacker, who met with a great ovation, briefly returned thanks.
Mr Grimes later proposed that Mr Smith be recommended to the Committee for a life membership of the Club, and Mr Arnold seconded. The latter gentleman said he had watched Whacker Smith since he first came out for Gloucester, and had always admired the manly, honest, and straightforward manner in which he played the game. Whacker had no side, never played to the gallery, and accepted the highest honours conferred on him with becoming modesty. The motion was adopted with unanimity."
By 1911, Whacker was employed as a labourer in the deal yards. In 1913 he married Ada Martha Fowler, and they had ten children. Whacker died in Gloucester on 20th January 1940, aged 61, and the following obituary was published in The Citizen later the same day:
"GLOUCESTER RUGBY INTERNATIONAL
DEATH OF MR C SMITH
The death occurred somewhat suddenly to-day of Mr Charles (Whacker) Smith of Bull-lane, Gloucester, the former well-known Rugby three-quarter.
Mr Smith, who was 61 years of age, returned home from work on Tuesday and complained of feeling unwell. Influenza developed and last night he was removed to the Royal Infirmary, where he died.
He rendered splendid service to the City Rugby Club for many years. He made numerous appearances for his county, and once played for England, in 1901 against Wales, at Cardiff. He was a fine defensive player and very plucky and determined in attack.
His first appearance for Gloucester was in 1900, the fourth year of Walter Taylor's captaincy. That season provided some brilliant victories for the club, and in the following year, when George Romans took over the captaincy, the team worthily upheld the Club's reputation. This season was remarkable for the phenomenal scoring against Clifton – 66 points to nil in the first match, and 72 points to 3 in the return game. In the latter fixture Romans converted 11 out of 15 tries, six of which were credited to G Clutterbuck. But "Whacker" Smith beat this individual record the following season against the same club, crossing the line no fewer than eight times. The full score was 10 goals 7 tries.
Mr Smith was employed for many years by J Romans & Co Ltd, timber merchants, of Gloucester.
He is survived by the widow and eight children."
[I am grateful to Chris Collier for supplying the career statistics contained in this profile, and to Mervyn Smith (Whacker's grandson) and Hilary Theyers for the family history details]