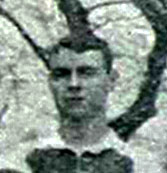 George Ephraim Spiers (Senior) was a waterman in Tewkesbury, who moved to Gloucester, where he took up employment as a porter in the docks. Little did he realise that he was starting a Gloucester rugby dynasty. He had three sons, all born in Tewkesbury – George Ephraim (Junior) in 1875, William in 1876, and Tom in 1880. All 3 sons played for Gloucester.
GEORGE EPHRAIM SPIERS (Junior)
George Spiers, first employed as a groom, but later as a labourer, at Gloucester docks, played 16 matches for Gloucester "A" in 1894-95, but was never selected for the first team.
WILLIAM SPIERS
William "Bill" Spiers (also spelt Spires), nicknamed "Suck", was born at Tewkesbury in 1876, the son of a Gloucester docks porter. He was a forward who made his first appearance for Gloucester in a 3-5 loss at Cardiff on 12th October 1895. He scored his first try for the Club on 25th January 1896 in an 8-3 win at Old Edwardians in Birmingham, and late in the season he scored another against Weston-super-Mare in a game which was also won 8-3. He finished the season having made 13 appearances. He also played in at least eight games for the 2nd XV, and scored two tries in a charity match in aid of the District Nursing Association in which Gloucester beat XX of Local Clubs 24-20.
In 1896-97, Bill played more regularly for the Club, appearing in 22 of 31 fixtures, and kicked a conversion in an 11-3 victory over Stroud, the only successful kick of his career. He made his County debut for Gloucestershire against Midland Counties at Moseley on 28th October 1896, which resulted in defeat 3-16.
During the summer of 1897, Bill moved to Plymouth, where he signed up to play for Devonport Albion, but they were under a cloud, having signed four Welsh players and being suspected of offering illegal inducements to players to join them. Some players were suspended but it was never proved that Bill had accepted any payment to transfer from Gloucester, and within three months Bill was selected to play for Devon and subsequently for an England trial.
With family still in Gloucester, he was back in the City to play for the Club against Newport on 10th March 1900, when he scored the third and final try of his Gloucester career, but Gloucester were badly beaten forward and lost 5-8. He was in the Devon side which beat Northumberland in the County Championship Final, and also played for Devon in the final the following season.
He made his final appearance for Gloucester in the traditional Boxing Day fixture against Old Merchant Taylors on 26th December 1902, which was won 8-5. His career statistics were 37 appearances, three tries and one conversion. He later re-visited Kingsholm running the line for Plymouth Albion in the 1920s.
The rugby correspondent of the Citizen looked back some 40 years later and wrote:
"W Spiers, a favourite forward of mine, I always regarded as one of the unluckiest of players to miss international honours. Whilst with Gloucester, and later with Devonport Albion, he was one of the cleverest roving forwards in the game. A tactician of the first order, Spiers shone especially in co-operating with his backs, in attacking movements, and his giving and taking of passes was the acme of perfection. In selecting a best-ever Gloucester team Bill Spiers would certainly be included in the side."
TOM SPIERS
Tom was also a forward, and made 4 appearances for the "A" team in 1898-99. He played regularly for the "A" team in the 1899-1900 season with 20 appearances and 2 tries in the 24 fixtures, but he also stepped up to the 1st XV, playing in 3 matches and scoring his first try on his debut on 17th February 1900 in a 21-0 victory at Cheltenham.
He was a regular for the first team in 1900-01, when he appeared in 29 of the 34 fixtures, and scored two tries at Kingsholm in a 34-3 win against Stroud on 3rd November 1900. This was a very successful season for Gloucester, with 24 wins and only 5 losses in their first season under the captaincy of George Romans. It was described as "A Season of Records" by WB, who maintained that "with the exception of Devon Albion (including Bill Spiers) – with whom Gloucester may fairly share the proud title of champion club in the English Union – no team has enjoyed a more successful season than the famous City combination". He thought that "the team which represented Gloucester this season may well be regarded as one of the strongest all-round fifteens ever turned out by the Club". For the first time since moving to Kingsholm, Gloucester went through the whole season undefeated at home – of 19 matches played, 17 were won and 2 drawn (Newport and Old Merchant Taylors). Of Tom himself, WB wrote: "T Spiers fully justified a permanent place in the team; he came to the front very rapidly, and his future is full of promise".
In the 1901-02 season, Tom made 20 appearances out of 34 fixtures, before injury cut his season short. He scored a try in the first game of the season against Clifton, and two more in the second match against Old Edwardians; later in the season he also score against Penycraig and Old Edwardians again. He made his county debut 10th October 1901 at Kingsholm, helping Gloucestershire beat Midland Counties 26-3, but was unable to break into the CountyChampionship side which made it through to the final. WB summarised his season as: "T Spiers did fine work up to the time he was injured".
Although Tom made 4 further appearances in 1902-03, his first team career ended on 14th April 1903 with a 26-0 win at Bath. He had made a total of 56 appearances for Gloucester and scored 8 tries. He continued to turn out for the "A" team, making at least 18 appearances in 1902-03 and at least 22 and 3 tries in 1903-04 (records are incomplete).
ERNEST & SAM SPIERS
George Ephraim (Junior) had two sons, Ernest born in 1904, and Sam born in 1909 – both played for the Club.
Ernest played his first match for the 1st XV on 19th April 1927 against Cinderford, and his second and last also against Cinderford on 10th April 1928.
Sam did not make it into the first team, but played for Gloucester United in the early 1930s, before following his uncle to Devonport, where he played for Devonport Albion, and against Gloucester on a couple of occasions.
JO DURRANT
Jo is the great granddaughter of Tom Spiers, and a season ticket holder at Kingsholm; she works for BBC Radio Gloucestershire, and has broadcast programmes about Gloucester Rugby.
[I am grateful to John Theyers for much of the research underlying these profiles, and to Chris Collier for the playing career statistics.]