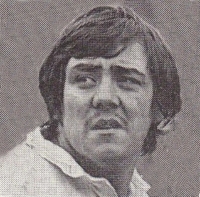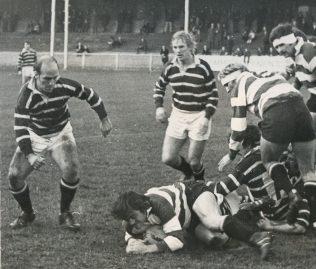 Fred Reed was a mobile hard-tackling hooker who was unlucky to be competing for a 1st XV place with two record breaking captains, Mike Nicholls and Steve Mills. Nonetheless, he played 129 games for Gloucester between 1969 and 1980, won several county caps and was reserve for a final England trial.
Frederick Charles Reed was born in Tredworth in Gloucester in 1947. He didn't play competitive rugby at school – his first competitive game was for Gloucester All Blues at the age of 15. He started as a scrum half but soon moved to hooker. He was recruited by "Digger" Morris to play for Gloucester Colts when he was 16 and, but for a season with Longlevens, played for Gloucester Colts and Gloucester Youth, with the occasional game for Gloucester United, until 1969.
Fred made his debut for the 1st XV on September 1 1969, the first choice hookers being unavailable. A large crowd saw Gloucester, who were otherwise at full strength, beat Philadelphia University by 60 points to 0. His ability was recognized and he went on to play 11 first team games that season. Noted for his tackling and gathering the ball on the ground, he was described by Arthur Russell in the Citizen as "Fearless Fred" a "Kamikaze player".
The next season was hooker Mike Nicholls' first as Gloucester captain – and he didn't miss a game. Fred, who ruefully admits to voting for him, didn't get a single first team outing. However, his consistent performances for Gloucester United were recognized with his first Gloucestershire cap, which was against Glamorgan at Penycraig on September 20, 1971.
Still restricted in his first team appearances for Gloucester, he was chosen as reserve for the County Championship Final against Lancashire in March 1973 and captained a young Gloucestershire side against Glamorgan at Lydney in September 1974.
Fred Reed's career peaked in the 1975-76 and 1976-77 seasons when he gained a regular first team place with Gloucester and was chosen as reserve for the Final England trial in December 1975. He toured Rhodesia (Zimbabwe) and South Africa with Gloucestershire in the summer of 1976, as reserve hooker to John Pullin.  In his second tour game, he played in the win against South West Africa (Namibia), who had drawn against the British Lions the previous year. In summer 1977 he toured the mid-west of the USA with Gloucester.
County honours continued to come his way with selection against Monmouth at Cheltenham on September 26 and against Devon at Kingsholm on October 8 1977.  Future England hooker and Gloucester captain Steve Mills was now getting established in the Gloucester side and Fred's appearances were once again becoming limited.  He was however the only player other than the XV which started each match to feature in Gloucester's 1978 cup campaign. He substituted for the injured Steve Mills after the first 15 minutes in a 13-3 victory against Wasps at Sudbury in the 3rd round. He was on the bench in the final against Leicester at Twickenham and gained a reserve medal.
One of his last home games was on February 2 1980 – a 15-7 victory over Bristol after the crowd had observed a minute's silence in memory of Tom Voyce. He ended his career by touring Canada with Gloucester in the summer of 1980 and his last game was at Burlington on the Canadian tour. This was also Bob Clewes' last game.
On retirement as a player, Fred Reed served as Team Secretary and selector and in the early 90s became the committee's liaison officer with the club's sponsors. On leaving the committee, he acted as agent/manager for Peter Glanville.  He is now on the committee of the Former Players Association. In his working life he was a training officer, and later industrial relations executive, with local engineering firm Babcock & Wilcox.