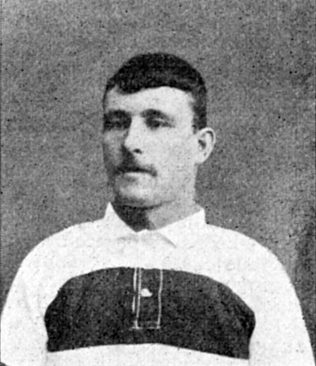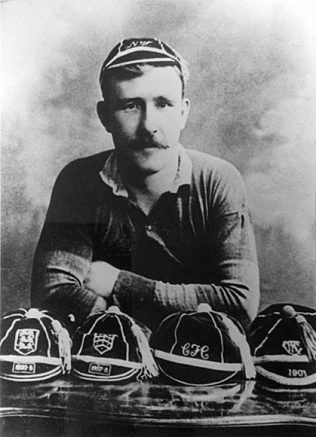 Official records (civilian and military) generally spell Fred's surname as Goolding, and that is the spelling used by other family members to this day, but the Gloucester Club records, and the press reporting, both local and national, of his rugby career, invariably list him as Goulding.
Fred was born in 1874 in Gloucester, the son of a dock labourer. As a boy he lived at 20, Mill Street and then at 5, Old Row, Millbrook Street, Barton St Mary. In 1890, he signed up for seven years of active service in the Army followed by five years in the Army Reserve. He declared himself to be a labourer aged 18 yrs 2 mths, when in fact he was only 16 yrs 7 mths. At this time he was 5 ft 5 ½ ins tall and weighed 8 st 12 lbs, and described as of fresh complexion with grey eyes and brown hair. He remained in the Gloucestershire Regiment until 1897, when he returned to Gloucester, and worked for the County Council, although remaining in the Army Reserve.
On returning to Gloucester, he joined the Rugby Club, and earned a place in the 1st XV pack immediately, making his debut in the first game of the season against Clifton on 18th September 1897. He ended up playing in 27 of the 35 fixtures that season. He scored his first try for the Club against Old Edwardians on 9th October 1897. In the Citizen, WB declared the season to be "a memorable one, and one that may very well be regarded as among the most brilliant in the history of the Club" whilst also claiming that "Gloucester is the only team in England unbeaten by an English club; whilst another fact of which Gloucestrians might well be proud is the retention for another year of the club championship of the County". Of Fred and the rest of the pack, he wrote: "with regard to the forwards, Gloucester have had a grand pack – one of the best possessed by the Club. In one important point – getting the ball in the scrum – they have had to acknowledge the superiority of opponents more than once, but in almost every other department – in the loose and line-outs especially – the City front rank have generally held the trump card. Six of the players [including Fred] assisted the county, and the successes gained for Gloucestershire have been attributed largely to the inclusion of the members of the City team."
On 4th December 1897, Fred won his first County cap against Somerset at Weston-super-Mare, where Gloucestershire won 3-0. He retained his place in the County side for the remaining three games which Gloucestershire played that season. On 6th January 1898, Glamorgan were beaten 8-0 at Kingsholm, and Fred was "more noticeable in the open". Glamorgan gained revenge 11-6 at Cardiff, but Gloucestershire, including Fred, rounded off their campaign with a 22-3 victory over Surrey at Bristol, on 2nd March. The Citizen assessed that "Goulding has come to the front rapidly, and if his claims are pressed forward next season he should go further than appearing for the county."
In 1898-99, Fred played in 23 of the Club's 34 fixtures, and scored a try in the first match of the season on 17th September at Kingsholm in an 18-0 defeat of Clifton, although that was to be his only try of the season. The team enjoyed a very successful season, the record being won 27, lost 6, drawn 1, with points for 300 and against 116. WB summarised it as "a brilliantly successful season, and one which will form one of the brightest chapters in the history of the Club". Of the pack and Fred himself, WB wrote that: "the play of the forwards has again been one of the great features of the season. Last year Gloucester got together a splendid pack, and all the players were available when the season opened. The form, however, did not reach the standard exhibited in 1897-98, though in a few games – notably against Blackheath – the men did splendidly. In the Christmas matches the forwards went so very rocky that it was deemed advisable to introduce some young blood. This was done in the return match with Coventry early in January, and this experiment was attended with excellent results. Improvement was noticeable in every succeeding match, and it is not too much to say that for a period of nine or ten weeks the City forwards were simply irresistible. In the last two or three games the players began to feel the effects of the heavy demands made upon them, but the displays against Llanelly, Swansea, Cardiff and Newport will ever be remembered amongst the finest things accomplished by a Gloucester pack. In selecting Fred Goulding as the best all-round forward of the season, we think our opinion will be shared by the large majority of the club's supporters. A splendid worker in the scrum, fast and clever in the open and a keen tackler, Goulding was always in evidence. His abilities were so far recognised as to gain him his South cap, but unless we are very much mistaken he will go further than this next year." Fred played regularly in what WB summarised as "a brilliantly successful season, and one which will form one of the brightest chapters in the history of the Club. Fred Goulding was the best all-round forward of the season. A splendid worker in the scrum, fast and clever in the open and a keen tackler, Goulding was always in evidence."
Fred was ever present for Gloucestershire in 1898-99, winning seven more caps. On 27th October, there was a visit to Moseley, where Midland Counties were defeated 8-5. Then Cornwall were seen off 16-3 at Bristol on 5th November, and two weeks later Fred was off to Exeter, where Devon and Gloucestershire played out a 0-0 draw. On 26th November, it was back to Bristol, where Somerset were beaten 7-3, setting up a play-off to decide the South-West group of the County Championship against Devon. This time, Gloucestershire had home advantage and played at Bristol on 11th January, but it did them no good as Devon squeezed home 3-0. Later in the season Fred played at Richmond, where Surrey and Gloucestershire drew 5-5 on 1st March, and at Gloucester on 6th April, when Glamorgan won 23-0.
Two England trials were held, South v North. Fred did not play in the first, but he was selected for the second on 25th February 1899 at Newcastle. He played alongside his Gloucester teammates, Frank and Percy Stout, and their South team won 11-0. The Stout brothers both played for England that season, but the ultimate honour of an international cap eluded Fred. He was tipped to win a cap the following season, but the call of Queen and Country was to intervene.
Fred married Mary Keane in 1899. They set up home at 3, Daventry Terrace, Brook Street, Gloucester, and had a son, Frederick, in 1903.
Fred played eight Club games at the start of the 1899-1900 season, scoring two tries against Clifton in the opening match of the season, which Gloucester won 30-8. He scored another in the third match against Old Edwardians, who were defeated 14-0. He also played in the first two County games of the season. Against Midland Counties at Kingsholm on 19th October 1899, Gloucestershire won 13-9, thanks in part to a try by Fred. On 4th November, Fred was in the team which beat Cornwall 5-3 at Camborne.
However, Fred remained a reservist, and he was called up for military service in the Boer War on 27th November 1899. The Citizen reported that "the loss of Fred Goulding was severely felt by the Club, for he was playing in grand form when ordered to the front". He was allowed home for Christmas, and played in the Boxing Day match against Old Merchant Taylors, which Gloucester won 16-3, the day before he set off for Aldershot, bound for South Africa, where he arrived in January 1900 with the Gloucestershire Regiment. He was severely wounded at Dreifontein in March 1900, and was later captured at Dewetsdorp, but released 13 days later on 5th December 1900. At the end of the Boer War, Fred was discharged on 20th November 1902, but remained a reservist.
On his return to Gloucester, he resumed his rugby career, and started the 1902-03 season with a bang. He scored tries in the first two games of the season against Clifton and Old Edwardians, won 45-0 and 48-0 respectively. He also returned to the County side for their first game of the season, a 3-6 loss to Midland Counties at Moseley on 15th October 1902. He then played in a 3-3 draw with Cornwall on 1st November, and a 5-3 win over Somerset on 22nd November, both at Bristol. He missed the next two games, but returned to the side for Gloucestershire's last match of the season, which was lost 0-14 to Somerset on 18th February at Weston-super-Mare. After 13 appearances for the Club, he was injured and decided to retire, a decision lamented in the Citizen, which reported that "Goulding showed grand form up to the time of his unfortunate accident, and his enforced retirement was a great loss to the club".
Fortunately he was able to resume for the 1903-04 season, and played in 27 of the Club's 34 fixtures, scoring tries against Bristol and Northampton. In the 21-0 defeat of Leicester on 16th January 1904, Fred "performed splendidly in the open". WB recognised that amongst the forwards "Parham, Goulding, Hawker and Smith formed a strong quartette". Gloucestershire also welcomed him back for a 0-13 loss to Midland Counties at Cheltenham on 14th October, a 3-7 loss to Devon at Kingsholm on 7th November, when Fred "came under notice for effective work in the open", and a 0-0 draw with Somerset at Weston-super-Mare on 21st November.
He was also selected for the West of England team in an England trial against the Rest of South of England (including Oxford and Cambridge Universities) at Richmond on 25th November 1903. He played alongside his Gloucester teammate, Frank Stout, who was also one of the West selectors. But the West pack was outplayed, the Rest of South won by three goals and two tries to one goal and three tries, and Fred's last chance of an England cap had gone.
Fred played on into the early part of the 1904-05 season, and was given the job of kicking off to start and restart the game. In a 9-3 victory over Penarth on 15th October, he was "conspicuous for some dashing play". He made six appearances for Gloucester, his last being in a 3-12 defeat at Cardiff on 5th November 1904. His final tally for the Club was 104 appearances and nine tries, four of them scored against Clifton and three against Old Edwardians.
He won two more caps for the County, playing in a 3-6 loss to Glamorgan at Kingsholm on 13th October 1904, and in a 9-18 defeat by Cornwall at Bristol on 29th October. This brought him to a total of 22 appearances for Gloucestershire during his time as a Gloucester player.
Fred continued his rugby career with Cheltenham, and won one further cap with Gloucestershire in 1905-06 whilst a Cheltenham player.
In 1909, his wife, Mary, died. In 1911 he remarried to Florence Beatrice Edmonds in Gloucester, but she too died in 1918, of Spanish Flu, along with two of their children.
Fred had remained a reservist, and at the start of the Great War in August 1914, aged 40, he was recalled to the Colours with the Gloucestershire Regiment, when he was described as 5ft 9 ¾ ins, 12 st 4 lbs, with brown eyes and dark brown hair. He went to France in February 1915, was wounded in June, and promoted to Lance Corporal in July. In 1916, he was sent to civilian work in a munitions factory in Northwich, but was not discharged from the Army until 1918.
In 1920 Fred married for a third time to Adeline Victoria Ethel Keates in Northwich, and the couple had four children. He remained in Northwich for the rest of his life, and died there in 1945, aged 71.
[I am grateful to Chris Collier for the career statistics, and to Martin and Teresa Davies for the military and family history information, contained in this profile.]