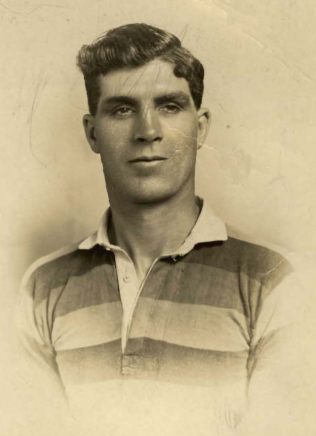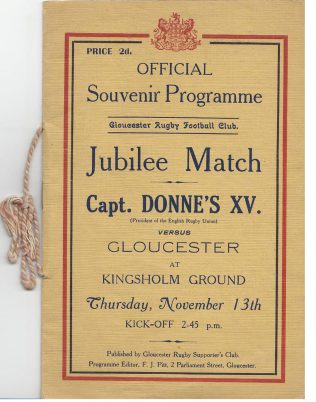 Dick Milliner was a scrum half noted for his strong tackling, high work-rate and ability to spoil opposition ball. He played 122 games for Gloucester between 1923 and 1928 and 12 games for Gloucestershire, appearing in the 1925 County Championship final, 1925 and 1926 semi-finals and against the 1926 New Zealand Maoris. Having answered an emergency call to play for an injury-stricken Gloucester in 1923, he was subsequently invited to take part in their Devon tour the following spring. He joined the club in October 1924 from Cinderford RFC, where he was 1st XV captain, at the age of 35.
Samuel Richard "Dick" Milliner was born in 1889 in Ruspidge near Cinderford, the son of George Milliner, a "Free Miner". He too became a coal miner at Ruspidge and continued to work in the mines throughout World War One, as mining was a reserved occupation.
His rugby playing career only started after the war, when, at the age of 30 he joined Cinderford White Rose RFC. He moved to Cinderford Town RFC the following season and played for Cinderford from 1921-24.
Dick Milliner became a respected local player and when in November 1923, Gloucester were short of half backs through injury, he responded to their call and made his Gloucester debut against Oxford University on 8 November at Oxford. Gloucester lost 28-11 but Milliner put in an impressive performance in a match in which the Gloucester threequarters squandered an endless supply of good ball. He continued to play well for Cinderford and the Citizen, reporting on April 5 on a 9-6 Cinderford win at Birmingham, said "The try by Milliner was the tit-bit of the match. He drew the defence and turning round gave several opponents the dummy and scored a brilliant try." He was invited to join Gloucester's annual Devon tour a week later and played against Plymouth Albion and Devonport Services.
Milliner was elected Cinderford captain for the 1924-25 season but when Gloucester were once more struggling to raise a team against Oxford University, due to the injury and unavailability of their half backs, he again answered the call. WB (Bill Bailey) of the Citizen reported on the match, which was played at Kingsholm on 6 November, "Fortunately the services of R Milliner were obtainable in place of Collins and the Cinderford captain proved to be an efficient deputy. He was too smart at times for MacDonald and his transfers were always well placed and accurately delivered. Milliner had assisted Gloucester against the University at Oxford and won high praise from the Dark Blue captain on his all round ability. He performed equally well on Thursday."
A week later, on Thursday 13 November 1924, Dick Milliner played in Gloucester's Golden Jubilee match against Captain Donne's XV and attended the Jubilee dinner at the Queens Hotel.  At 35, he was now a Gloucester player and a first choice at scrum half for the next five seasons. Playing in the Gloucester back row in the Jubilee game was the legendary Arthur "Tart" Hall, another Ruspidge miner, who was coming to the end of his 227 match career.
A string of impressive performances for Cinderford and Gloucester had brought Milliner to the attention of the Gloucestershire selectors and he made his county debut against Cornwall on 13 December. He went on to play in Gloucestershire's 10-9 semi final victory over Middlesex at Kingsholm in February and in the 1925 County Championship final against Leicester at Kingsholm in March. Gloucestershire lost the final 14-6 but a fighting comeback at 11-3 down breathed new life into the game. The Times reported "The Gloucestershire pack found another reserve of strength and cleverly supported by their indefatigable scrummage half-back, Milliner – the pupil, so it is said, of "Father" Dix – and by Taylor, the effort was rewarded by a try." His defence was outstanding but his tactics at the base of the scrum meant that he occasionally fell foul of the offside law and the referee. The Times remarked on his persistent infringements in Gloucester's match at Bristol on March 7 – but Gloucester still won the match 5-0!
Although Milliner played for Gloucestershire throughout the 1925-26 County Championship season, he was still able to turn out in 35 of Gloucester's 37 1st XV games. He was again singled out for praise by The Times for his work in a 20-10 victory over Cornwall at Bristol in December and in the Somerset game at Kingsholm later that month he was described by The Times as a "tireless scrummage worker" starting the movement that led to the first try and scoring the third himself in a match that Gloucestershire unexpectedly lost 9-10. The county went on to beat Devon 10-3 and top the South West group but in the semi-final against Hampshire at Southampton the home side won an improbable 16-6 victory against the run of play. The Times bemoaned the fact that "so much hard and clever work by Milliner was thrown away."
1926 was the year of the General Strike, bringing further hardship to the Forest miners and their families. Now 37, with a wife and three children (the youngest newly born) it would have been easy for Milliner to call it a day. He played on, however, and 1926-27 proved to be another successful season. His first county game, a friendly against the reigning County Champions Yorkshire at Kingsholm in September, which was won by Gloucestershire 14-4, was followed by a game against the touring New Zealand Maoris at Bristol on November 10. This grim forward battle, played in appalling conditions, was won by 3-0, a notable victory as the Maoris lost only seven times on their 31 match tour of France and Great Britain, beating France 12-3 in their only international.  Dick Milliner kept his place after a 17-14 win over Somerset at Bridgwater but a 13-3 defeat by Cornwall at Camborne in December signalled that it was time for a change and the curtain was brought down on his county career. The durable Milliner continued to play well for Gloucester behind an outstanding pack and completed 33 games for the season.
Milliner was now approaching 40 and, lacking a little pace, was cast in the role of wily veteran. His last season for Gloucester, 1927-28, ended fittingly on the South West tour with a 13-8 victory over Torquay Athletic in his 31st game. Bill Bailey wrote in his end of season review for the Citizen "The scrum half, if finding age had slowed down his activities, again gave splendid service, especially in defensive work, in which he has no superior. This season will probably close Milliner's long career – one on which the veteran can look back with every satisfaction. Certainly Gloucester have every reason to feel indebted to the popular Forester – a clean player and good sportsman, and one who has made sacrifices to play amateur Rugby. I am sure Milliner has thoroughly enjoyed his football with the City team, and though he had to take many a hard knock in checking forward rushes, it will be a keen wrench to have to give it up."