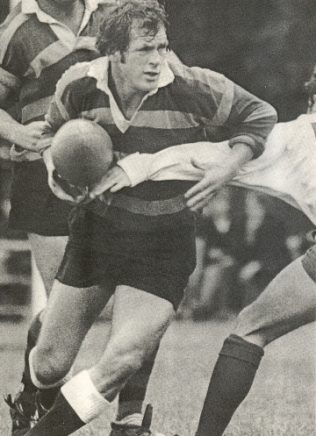 Dick Smith played for Gloucester as a wing forward and occasional centre from 1958 to 1976. He is a member of the exclusive band of players who played over 500 times for the club, scoring over 100 tries. His parents were born in Aberdeen and, as a result, Dick and his son Ian had dual qualification. Ian played for Scotland, winning 25 international caps. Dick had several trials for England but never quite made it into the England side.
Richard "Dick" Smith was born in Brockworth on April 10, 1940. He was educated at The Crypt School, Gloucester. After school, he played for his GAC works team before receiving a 3 game trial with Gloucester United in 1958. He made his debut in the centre against Neath at Kingsholm and went on to play regularly at centre throughout the 1958-59 season. The following season he established himself in his natural position of open side wing forward.
Dick Smith made his county debut in 1962 and played 47 times for Gloucestershire in the County Championship. He twice appeared in losing semi-finals against the all-conquering Warwickshire (in 1963 and 1968) before appearing in three successive finals (1970-71-72) which culminated in victory over Warwickshire at Coventry (Gloucestershire's first County Championship for 35 years).
Dick Smith appeared in England trials in 1964-65 and 1966-67 and in Divisional Rugby for South and South West when the trials were replaced. He was still being considered by The Times in 1972 for the forthcoming England tour of South Africa. He played for Western Counties against the Wallabies (1966-67) and the All Blacks (1972-73) and for South of England against the All Blacks (1967-68). He played four times for the Barbarians in 1971-72.
Dick captained Gloucester in 1968-69 and 1969-70. 1968-69 was described in the Citizen at the time as "Gloucester's greatest ever season", in which they scored 882 points – a record at the time – and recorded 32 wins. In 1969-70 they played a record 57 games.
On one occasion Public School Wanderers arrived at Kingsholm for a midweek evening game a player short. Dick Smith demonstrated his versatility by turning out at centre for the opposition – and finished on the winning side!
He played in the 1972 knock-out cup final victory over Moseley. Notoriously, he was laid out flat in the first few minutes by Nigel Horton (the England lock – and a policeman!) who was sent off.
After retirement at the end of the 1975-76 season, Dick started coaching at Gloucester but came off the bench for one last game in 1978. He coached Gloucester to the John Player Cup Final (again against Moseley) in 1982. The score was 12-12 after extra time – the only time that the cup has been shared. That season Gloucester (captained by Steve Mills) won 40 games, which was another club record. They lost only to Bristol, Cambridge University and Newport – all away from home – and scored 1045 points.
In his autobiography "Never Stay Down" Mike Burton paid the following tribute to Dick Smith as coach and player: "an enlightened man who probably appreciates the subtleties of back play more than anyone in the club. He was even more unlucky than Mickey Booth not to win a cap, as a superb flanker…….he could have played first class rugby in the centre."