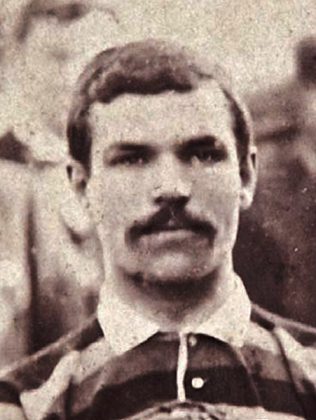 Walter Taylor was one of the very best wing three-quarters of his generation in England. He possessed breathtaking speed, and when he received the ball a hum of anticipated would ripple through the crowd, because he was renowned for scoring tries after spectacular runs three quarters of the length of the ground. The thrill of his running, his gentlemanly conduct and unassuming manner, and the success he enjoyed as captain, made him a firm favourite with the Kingsholm faithful, many of whom admitted that they would go to matches principally to see Walter make one of his famous runs.
Walter was born at Frampton on 5th May 1871, the son of a coachman, but the family moved to Gloucester when he was about two years of age. In 1881, the family was living at 4, Tram Road, Littleworth, Gloucester. Walter's football career commenced with the Beaufort, a local club which was reputed to have turned out some good men in its time. His abilities as a three-quarter quickly came to the attention of officials of the premier City club, and he was invited to play for the Second XV. He played three games for them between 11th and 25th October 1890, scoring 2 tries in his first game against Lydney 1st XV, and 3 tries in his third game against Moseley 2nd XV. Given this form he was soon considered worthy of a place in the First team.
Walter's first match with Gloucester 1st XV was on 1st November 1890 against Penarth, and he announced his arrival by scoring a sensational try from the centre of the field. This secured a 3-0 win for Gloucester – one point for Walter's try and two points for the conversion by A F Hughes – and he scored again the following week against Birmingham Old Edwardians. From this time on Walter's place in the first team was assured, and he played in every remaining game that season. He ran in 4 tries against Exeter on 6th December 1890 (the 14-0 result seems less decisive than the tally of 10 tries and 2 conversions), and rounded off the season with 2 tries against RNC Devonport in the final game. During his 20 appearances, he had scored 11 tries, and became the Club's leading try scorer.
During this first season for the Club, he also made his debut for the County, and went all the way with them to the County Championship Final at Manchester on 14th March 1891, where he played in a team containing 14 Gloucester players. They were well beaten by Lancashire, by 4 goals and 2 tries to nil, but Gloucestershire awarded CountyCaps for the first time to the players in the Final. Walter also played in an international trial match for Western Counties versus the Midlands. During this remarkable first season in senior rugby, Walter displayed the fortunate habit of scoring in his first match at each level, achieving this feat for the Beaufort, Gloucester 2nd  XV, Gloucester 1st XV, Gloucestershire and WesternCounties.
In 1891, Walter was still living with his parents at 11, Regent Street, Gloucester, and his father was working as a labourer at the Wagon Works, where several Gloucester players also worked. Walter was employed as a printer compositor.
In his first full season for the Club in 1891-92, Walter appeared in 22 of Gloucester's 34 fixtures, scoring 7 tries. This was the season that the Club first played at Kingsholm, and Walter played in the first match on the new ground on 10th October 1891, when Gloucester defeated Burton 18-0. On 26th October 1891, he scored his first drop goal against St Helens in the Club's second match at Kingsholm, and he scored tries against Leicester, Moseley (2), Exeter, Leicester (again), Wakefield Trinity, and Maritime.
Walter's most successful season as regards try scoring came in 1892-93, when he ran in 18 during 25 appearances, and became the leading try scorer for the Club. He crossed the line against the Colts XX, Bristol, Old Edwardians, Burton, Leicester (3), Moseley, Penarth (2), Old Edwardians, Old Merchant Taylors, Swansea, Cardiff Harlequins, Moseley, Broughton Rangers (2) and Tyldesley.
Walter was equally successful in love in 1893, and married Gertrude Dorcas Wigg in Cheltenham; they went on to have several children.
The 1893-94 season saw John Hanman take over the captaincy (although he was suspended by the RFU for the latter part of the season). Walter appeared in 21 of Gloucester's 29 fixtures, and was again the leading try scorer with 10. Strangely, he failed to cross the line during the first half of the season, scoring his first try against Moseley on 13th January, but this opened the floodgates with further tries against Burton-on-Trent (2), Bridgwater, Lennox, Devon Nomads (2), Swansea and Castleford (2). On 24th February 1894, Walter played in a 3-0 win at Stamford Bridge, the only time that Gloucester ever travelled away to play Old Merchant Taylors – the norm was only one fixture per season at Kingsholm on Boxing Day.
In 1894-95, he played in 22 of 28 fixtures, and remained the Club's leading try scorer with 13, against Penarth (2), Coventry, Bristol, Moseley, Old Edwardians (2), Old Merchant Taylors, Kent Wanderers (2), Clifton and Middlesex Wanderers (2). He also scored Gloucester's only 2 dropped goals of the season, against Swansea and Bristol, and was selected for an international trial, playing for London & Western Counties v Oxford & Cambridge, and scoring a try. Many commentators thought that he should have been selected to play for England, but his claims were ignored by the selectors, and he was never to win a cap.
1895-96 saw Walter play in 19 of the Club's 26 fixtures, and he was again the leading try scorer with 10. At the start of 1896, he scored in 5 successive matches against Leicester (2), Devonport Albion, Coventry, Old Edwardians and the Forest of Dean. He also took over the goal kicking duties for the team around this time, kicking conversions to add to his tries against Coventry and Old Edwardians. He kicked 2 more later in the season, and those 4 conversions made him the leading kicker for the season. During this season he also played for Gloucestershire against Somerset, Devon and Surrey. In his prime at this time, he is recorded as weighing 10 st 9lbs and standing 5 ft 7 ½ ins tall, which was considered a useful size in those days.
Walter was elected captain of the Club for 1896-97, and led the team to a successful season, recording 18 wins, 8 losses and 5 draws, with a points differential of 250 against 131. Walter himself played 28 games, but a haul of 8 tries saw him give way to George Clutterbuck, with 9, as the Club's leading try scorer. However, he kicked off his captaincy in fine style by contributing a try and a conversion to a 12-0 win over Cheltenham in the first game of the season, by scoring a decisive brace of tries and a conversion in an 11-6 win over Old Edwardians in the second game, and another try and conversion in a 14-0 win at Stroud in the third. Walter gave up the regular goal kicking duties to Percy Stout later in the season, but pitched in a couple of dropped goals, which demonstrated his comprehensive range of scoring talent. But the highlight of his first season as captain came on 3rd April 1897, when Llanelly arrived at Kingsholm unbeaten with only 3 fixtures to go in their season.  A fine performance by the Gloucester forwards and sterling defence by the backs saw Gloucester home 5-3 in a very tight game, with Llanelly pressing hard right up to the final whistle.  The crowd were enthralled, gave the Gloucester team a rousing ovation as they left the field, and carried Walter off on their shoulders.
Walter was firmly entrenched as a popular and successful captain, and in 1897-98 led the Club to 24 wins, 5 losses and 6 draws, whilst scoring 335 points to 120. Walter himself played in 32 of the 35 fixtures, scoring 16 tries (to resume his position as leading try scorer), 2 conversions , 1 penalty and I dropped goal to make a personal contribution of 59 points, the most of any season in his career. Despite this good form, he played only one match for Gloucestershire, when they beat Cornwall 16-3 at Camborne. For Gloucester, perhaps the highlight was going through the whole season unbeaten by another English club – all their reverses came against Welsh teams, although they did record a fine win in Cardiff.
Walter again led the Club to a very successful season in 1898-99, when the record was won 27, lost 6, drawn 1, with points for 300 and against 116. The captain played in 31 of the 34 fixtures, and was yet again the leading try scorer with 14 (next best being Percy Stout with 7). As usual, the big Welsh clubs presented the greatest challenges, and most of the defeats, but Gloucester did slip up against 2 English clubs, losing 5-6 to Blackheath and 4-6 to Leicester in the last game of the season. But Gloucester also enjoyed wins against Cardiff, Swansea and Newport at Kingsholm, and their first success at StradeyPark against Llanelly. When news of this 6-3 success reached a large crowd which had assembled at the Cross in Gloucester, there was elation, and many remained to greet the team home at Gloucester station at midnight with a brass band adding to the celebrations.
Walter was re-elected as captain for a fourth season in 1899-1900, and again enjoyed a good measure of success, the season's record being won 23, lost 7, drawn 2, with points for 406 and against 110. Gloucester again went through the season without suffering defeat at the hands of an English team, but found the going much harder against the big Welsh clubs. Walter again led from the front not only as captain but also as the leading try scorer with 15 ("Whacker" Smith and Jim Cook were next with 9 each). He started the season in fine form, scoring 3 tries in the first match against Clifton, and a try apiece in the next 2 matches against Bath and Old Edwardians. Later in the season he had a memorable day at Stroud, when he ran in 4 tries. Gloucester again went through the season without suffering defeat at the hands of an English team, but found the going much harder against the big Welsh clubs. On 12th April 1900, the Barbarians visited Gloucester for the first time. Walter not only led his team to a 13-0 victory, but also played a prominent part in both attack and defence. Reports of the match speak of his making "dashing runs", a "smart bit of play", "stopping Cumberlege finely", and "Taylor brought off a magnificent run, beating all except the full-back, who only brought him down ten yards from the line".
However, Walter was able to play in only 20 of the 32 fixtures (he missed 2 whilst playing for the County against Cornwall and Devon), and at the end of the season, he handed over the reins of captaincy to George Romans. In the four seasons under his leadership, the Club had played 132 matches, winning 92, losing 26 and drawing 14, whilst scoring 1291 points against 477, and became known as the "record smashers".
Thereafter, Walter's career continued for a further 3 seasons, but his appearances were much less frequent – he appeared in only 10 matches, although registering a further 5 tries and 4 conversions. He came out of retirement in 1902-03 to play his final game at Stroud on 14th February 1903, and at least enjoyed a 6-0 victory in a much weakened team. He finished his Gloucester career with 250 appearances, 127 tries, 17 conversions, 1 penalty, 7 dropped goals, and 399 points. He made 30 appearances for Gloucestershire.
Besides his fame as a rugby player, Walter was also well known for his prowess on the running track. His best performance was at the Spa on 7th August 1894, when he won both the open and local sprints, the former off the 4 ¾ yards mark, and the local event from scratch. His time for the open 120 was given as 12 seconds dead, and Taylor later admitted that he never ran better than on this occasion. However, he won numerous prizes on the track, including the 100 yards at the Midlands Counties championship. He once competed in the 100 yards Amateur Athletic Championship at StamfordBridge, but was narrowly beaten in his heat by the ultimate winner, F W Cooper (Abergavenny & Newport).
Indeed he was a talented all round sportsman. He was an excellent cricketer, playing for the General Post Office Sports Club, before they were amalgamated with the Civil Service Sports Club; he was an excellent shot; and he played a few games of football for GloucesterCity in his youth.
By the time he retired in 1933, Walter had been a sorting clerk and telegraphist at Gloucester Post Office for 40 years, and was awarded the Imperial Service medal. Later in life, he became blind, but remained active and took a keen interest in his garden.
Walter was a guest of honour at the Club's Jubilee Dinner on 11th October 1951 to celebrate 60 years of rugby at Kingsholm – by then Walter and Charlie Williams were the sole survivors from the team which had played in the opening match in 1891. The Citizen produced a special supplement to celebrate the Jubilee, and included a contribution from Walter:
"FIREWORKS IN THE STREETS
By Walter Taylor, now 80
Perhaps my most outstanding memory did not take place on the field of play. It was in Northgate-street, Gloucester.
We had just returned from beating Llanelly at home in 1898. What a welcome we were given – the first English club to beat all four Welsh teams (Cardiff, Swansea, Newport and Llanelly) in one season.
There were thousands of people at the station. Somebody snatched my bag – it turned up next week at Kingsholm with all my kit washed and ironed – and they chaired us through the city.
In all the big business houses they were showing coloured lights and letting off fireworks …
Those were wonderful days. I should like to see them all again."
At the time of his death on 12th September 1955, Walter was the oldest Gloucester player. He had been a widower for 29 years, and was living at 28, Slaney Street, Gloucester.
[I am indebted to Chris Collier for supplying the statistics for Walter's playing career.]