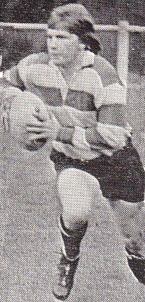 Ron Etheridge was a player with pace and counter-attacking flair who played 187 games for Gloucester both at full back and later in his career on the wing, scoring 40 tries. He played 9 times for Gloucestershire and was a Scottish trialist.
Ronald Etheridge was born in 1951 in Rothesay on the Isle of Bute. His parents moved from Scotland when he was 3 years old and he was educated at Central Technical School, Gloucester.
He joined the Gloucester club in 1969 making his debut as a late replacement at Coventry in December and retained his place for the Boxing Day game against Old Merchant Taylors. The 18 year old full back quickly established himself and he went on to play 24 games in the remainder of the season.
The county selectors took note of his dash and flair and after playing in two non- Championship games he made his Championship debut against Somerset in November 1970. He went on to play for the county throughout the group, quarter- final and semi-final rounds. Commenting on the semi-final against Northumberland The Times said "The red-headed Etheridge played with such reckless abandon that one wondered if he had been watching J P R Williams. He was dented occasionally, but finished in one defiant piece." The selectors then made the tough decision to drop him for the final at Kingsholm to make way for the goal-kicking of Eric Stephens. Still a teenager, he had played 40 games for Gloucester and five for the county that season.
The young full back caught the eye of the Scottish selectors in autumn 1971 and he was picked to play for the Anglo-Scots against Edinburgh and for the Whites against the Blues in the first Scottish trial at Murrayfield. He regained his county place against Somerset in the first Championship game of the season. Two factors counted against Ron Etheridge progressing further however – his lack of place-kicking ability and his predominant left-footedness which could put him under pressure on occasion.
The following season he moved to the left wing and in 1973-74 scored 17 tries in 31 appearances for the club. He played on the left wing in Gloucester's 24-14 victory over an International XV in the October Centenary game.
For the rest of his career he played as a utility back, filling in on the left wing or at full back as the team required. In April 1975, although playing little first team football that season, he gained a further county cap against England Under 23 at full back. Joining the force in 1976 he demonstrated his versatility by playing fly half for Gloucestershire Police and in September 1976 he was again a reserve for Gloucestershire against Japan.
Ron Etheridge made his final appearance for Gloucester against Exeter in the last game of the 1979-80 season. In a career that went from teenage prodigy to unsung hero, he always gave a 100% performance.