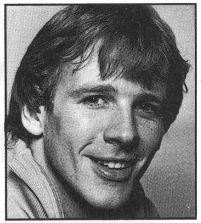 Don Caskie was a compact but powerful centre who played 193 games for Gloucester between 1989 and 1997, appearing in the 1990 Pilkington Cup Final in his first season with the club. Born in South Gloucestershire of Scottish parents, he played for Scotland Under-21, Scottish Students and Scotland B and for the Anglo-Scots in the Scottish District Championship. At only 5' 6" (1.58m) and 11st. 8lb. (74kg) he surprised opposing backs with his strong tackling and coolness under pressure.
Don W Caskie was born on 12 December 1965 in Almondsbury and was educated at Rednock School, Dursley and the West London Institute where he gained a degree in Physical Education. He was an outstanding soccer player and had trials with Bristol City, Plymouth Argyle and Swindon before opting for rugby.
His Scottish parents gave Don a Scotland qualification. While at the West London Institute and playing for London Scottish he had already represented Scotland Under 21 and the Anglo-Scots in the Scottish District Championship. He also played for Scottish Students, appearing against England in the 1988 Student World Cup.
He joined Gloucester from London Scottish in 1989 and quickly established himself, playing 28 games in a season in which Gloucester reached the 1990 Pilkington Cup Final against Bath at Twickenham and finished runners-up in the John Courage League.
Two years later he featured strongly in a season which saw Gloucester reach the Pilkington Cup semi-final where they were knocked out by Bath in extra time and finish fourth in the John Courage League. Don's success with Gloucester was noticed by the Scottish selectors and in 1991-92 selection for a Scottish XV v Spain at Murrayfield in December was followed by a Scotland B cap against France in Albi in February. The following season he played for the Exiles (Anglo-Scots) in all four games in the Scottish District Championship.
Just as Caskie's consistent performances in the centre brought success to Gloucester in the early 90s, they helped to keep the club afloat in the league in the last years of the amateur game when the team were struggling. In 1996-97, his last season with the club, he was described in the Gloucester programme as "playing his heart out all year."
Don Caskie left Gloucester in 1997 with the introduction of the full-time professional squad. In recent years he has been working with Ian Smith as assistant coach at Moseley RFC and in 2010 took the post of backs coach with the Georgia national side.