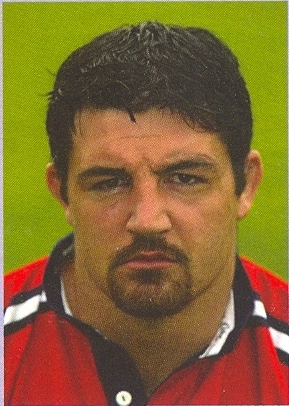 Olivier "Ollie" Azam, the French international hooker who played 240 games for the club between 2000 and 2011, is one of the select few foreign professionals who have been adopted by the Gloucester supporters as one of their own. Formidable in the loose, he was capable of using his 115kg bulk to turn matches, his characteristic charges accompanied by chants of "Ol-lie, Ol-lie" from the Kingsholm faithful.
Olivier Azam was born in Tarbes on 21 October 1974. He was brought up on a working farm in the foothills of the Pyrenees. His father Jean-Jacques and his uncle played for the local Bagneres club, which was a major force in French rugby in the amateur game of the 70s and 80s, featuring internationals such as Roland Bertranne and Jean-Michel Aguirre. Encouraged by his father, Olivier started his playing career as a No.8 with Tarbes, which had eclipsed Bagneres by this time, before moving up to the front row, first as prop then hooker. Still in his teens, he left home to study in Clermont-Ferrand in the Auvergne and joined the local club Association Sportive Montferrandaise Clermont Auvergne (shortened to "Montferrand" until 2004 and subsequently to "Clermont Auvergne").
Playing for Montferrand, Olivier Azam quickly gained the notice of the French selectors and in October 1995 was chosen to go to Argentina for the inaugural Latin Cup competition between France, Argentina, Italy and Romania. He made his international debut against Romania in Tucuman on 17 October and four days later, on his 21st birthday, came on as a 49th minute substitute in the final game against Argentina in Buenos Aires. Although he was to gain several France A caps, he was not to represent France again as a Montferrand player. There was success at club level however, as Montferrand finished runners up in the French Championship in 1994 and again in 1999 and also won the European Shield that year.
When Philippe Saint-Andre recruited Olivier Azam from Montferrand in the summer of 2000, it was the start of a Gloucester legend.  Saint-Andre knew Azam well as they had played alongside each other for Montferrand. Azam's Gloucester career started inauspiciously with a 50-20 thrashing at Saracens on 20th August and was then disrupted when he was recalled to play for France against Australia and New Zealand in November, but he was soon to demonstrate his formidable power in both the front row and in loose play.
Gloucester's success in the three years 2000-01 (Heineken cup semi-finalists), 2001-02 (third in the Zurich Premiership and Zurich Championship winners) and 2002-03 (Zurich Premiership league winners and  Powergen Cup winners) owed much to the power of "Ollie" Azam who was in the form of his life. He started in all 8 matches of the 2001-02 Heineken Cup campaign and in the Championship Final and Powergen Cup Final victories at Twickenham and played a total of 84 cup and league games in the three seasons. The Heineken Cup success drew the attention of the French selectors and he played against South Africa, New Zealand, England, Ireland, Argentina and Australia in 2001 and 2002.
To the shock of his many fans at Kingsholm, Olivier Azam left Gloucester to rejoin his old club Montferrand for the 2003-04 season. Montferrand had a successful European Challenge Cup campaign that year and h e played in the final against Harlequins at the Madejski Stadium, Reading in May. Montferrand lost 27-26 but Azam scored one of their two tries and was named Man of the Match.
The following season "Ollie" was back at Kingsholm. Things had moved on in his absence and he now had to compete with England international Andy Titterell and Australian international Jeremy Paul for the number 2 shirt. In 2005-06 he suffered a shoulder injury in October which kept him out for most of the season but he came back to play his part in Gloucester's thrilling European Challenge Cup Final victory over London Irish at the Twickenham Stoop in May.
Now aged 32, but back to form and fitness, Azam began the final phase of his Gloucester career. His inconsistency at the lineout (always a weakness) became more marked, but his physical presence in the scrums and in the loose was as great as ever and he started to be used more as an impact player, coming on (or leaving after a job well done) to the roars of the Kingsholm crowd. The pressure of this role and the requirement to impress himself on the opposition, together with his natural aggressive and combative approach resulted in several brushes with authority and he suffered a series of hefty suspensions.
The Kingsholm crowd continued to love him however and he was voted Supporters' Player of the Year in 2008-09. The dynamic performances when coming off the bench continued and he featured in Gloucester's LV Cup final win in 2011. He was awarded a club testimonial in 2010-11. Azam appeared to be going on for ever and it was a shock when, at the end of the 2010-11 season in which he made 30 appearances (14 starts and 16 as replacement), it was announced that he would be released. The following month, he was appointed forwards coach at Toulon, rejoining his old boss, Philippe Saint Andre.  Managing director Ken Nottage paid a fitting tribute:
"A tireless and fearsome competitor, he is now written into Gloucester rugby folklore and, outside of rugby, is now well and truly part of the local community as a successful restaurateur. Olivier's loyalty to the club is a breath of fresh air and he has quite rightly gone on to become a legend with the Gloucester supporters. On behalf of everyone at Gloucester, I would like to thank him for his contribution and wish him all the very best for the future."
Olivier Azam had opened his own restaurant Le Quinze in Montpellier, Cheltenham in May 2006. The restaurant, run by Olivier and his Gloucester-born wife Katie, was re-launched as the Armagnac in 2009 and thrived until May 2013 when Azam, who had left Toulon to take up a coaching appointment at Lyon, explained that due to family and work commitments he felt unable to carry on, thereby finally severing his connections with Gloucestershire after 14 years.
The final word is with Phil Vickery who, when looking back in 2012 at the players he'd played alongside during his career with Gloucester, chose Azam as his hooker. Vickery said:
"It has to be Azam. In the right frame of mind and really wanting it, you wouldn't find anyone better in the world."