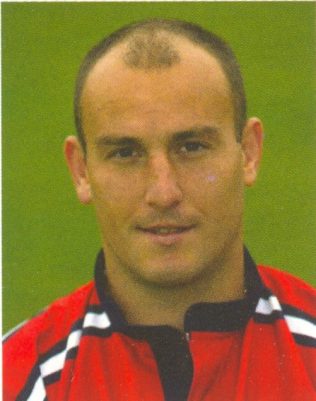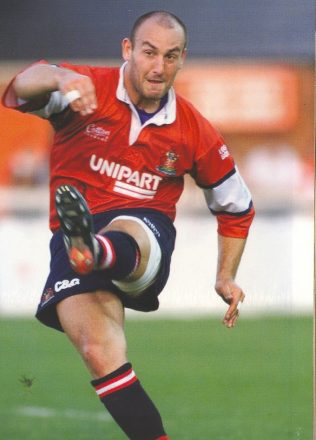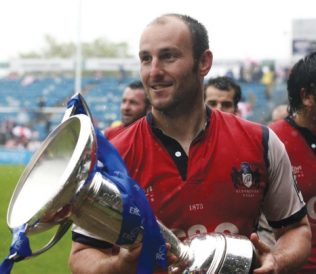 Ludovic Mercier is a much-travelled French outside half who in the four seasons (2001-2003 and 2005-2007) that he was with Gloucester played 105 games, scoring 1325 points. He played in the 2002 Championship Trophy and 2003 Powergen Cup victories at Twickenham and the 2006 European Challenge Cup victory at The Stoop, his kicking proving to be a major factor in the winning of all three trophies. In the six group matches of the 2002-2003 Heineken Cup campaign he scored 101 points.
Ludovic Mercier was born in Angoulême, the capital of the Charente département of France on 1 November 1976. He had aspirations to become a goalkeeper, but his rugby-playing father ensured that he joined the local rugby club. He played for Sporting Club d'Angoulême from the age of seven, making his first team debut in the French 2nd division as a sixteen year old.
In 1996 Mercier signed for the (then) Top 16 club A S Béziers but  moved on to Aurillac in 1999 to play two seasons for Stade Aurillacois. He played in the European Challenge Cup for both Béziers and Aurillac and the exposure kick-started his career as the remarkable accuracy of his kicking both from hand and from the tee began to attract considerable notice.
One of a number of French players recruited by Philippe Saint-André, Ludovic Mercier joined Gloucester from Aurillac in 2001. He was to make a lasting impression. In his debut season 2001-2002, he scored a record-breaking 508 points, including 17 dropped goals. His 23 points in the 28-23 Zurich Championship Final win over Bristol at Twickenham that season won him the Times headline "Mercier steers Gloucester to the title".
Success followed success in 2002-2003 as Gloucester topped the Zurich Premiership and beat Northampton 40-22 in the Powergen Cup Final at Twickenham. Mercier scored 20 points in the Cup Final and in all netted 394 points that season. In the six Heineken Cup group matches he scored 101 points. His domination of the Premiership gained him France A selection against England and Italy.
A great favourite with the Shed, Mercier's prodigious touch-finders and remarkable goal-kicking raised the chant of "Ludo-o-o" at every opportunity. When his place kicking was on song, he got so much elevation that the goalposts at Kingsholm had to be extended. He might not have been the quickest or most creative of outside halves, but his exceptional kicking more than compensated.
The pull of France proved irresistible and he returned to play the 2003-2004 season for FC Grenoble. It was a difficult season in which Grenoble avoided relegation by the skin of their teeth although Ludo scored 200 points. He moved on to Pau in 2004-2005 where he racked up a personal league best of 279 points in another relegation-threatened year. Ironically, Section Paloise kept their top flight status by beating Mercier's old club Stade Aurillacois in the play-offs.
Back to Gloucester for 2005-2006 where he scored 336 points in another successful season. Gloucester won the European Challenge Cup, beating London Irish at The Stoop 36-34 in extra time. Ryan Lamb started the match but was replaced by Mercier at half time. Mercier kicked two penalties and a conversion in the game.
Injury, loss of form and the arrival of Ryan Lamb on the scene curtailed Mercier's appearances in 2006-2007 and at the end of the season he left Kingsholm for the second and final time.
In the next four years he scored 789 Italian Super 10 and European Challenge Cup points for Petrarca before joining the newly formed Italian regional side Aironi in the Magners League. When Aironi folded he moved to St-Étienne and at the age of 36 he currently plays for Club Athlétique de Saint-Étienne Loire Sud (CASE) in the third tier of French rugby, where he also coaches the backs.
In a career spanning the whole professional era (Remember, he made his debut for Angoulême at 16), Mercier has played for no less than nine clubs in France, England and Italy. In that time, he has left a lasting impression wherever he has played.