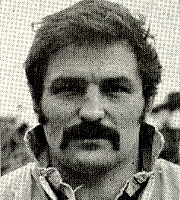 Perhaps Kingsholm did not see the best of  Ipswich-born Robin Cowling who was a nephew of the great Gloucester captain John A'Bear and who went on to England glory with the Leicester Tigers. Nonetheless the loose-head prop played 216 games for Gloucester, appearing in the first knock-out cup final in 1971-72. He also played for Western Counties against the All Blacks (1972-73) and in four County Championship finals (1971-72-73-74) while with the club.
Robin James Cowling was born on March 24 1944 in Ipswich. His mother was the sister of John A'Bear who captained Gloucester from 1937-1939. When he was a small boy, the family moved back to Gloucester, where his mother had been born. Robin was educated at Sidcot School, Somerset and the Royal Agricultural College Cirencester.
On leaving college, he joined Gloucester as a hooker but quickly moved to prop. Built like a hooker (5 ft 10in and only 14 ½  stone at his peak) he was a fierce competitor, powerful scrummager and quick around the field.
Cowling made his 1st XV debut as hooker against Newport at Kingsholm on 21 October 1967, propped by Jack Fowke and Mike Burton. Gloucester drew the match 13-13. He broke into the side at prop in December, when regular props Jack Fowke and Colin Teague sustained long term injuries and he remained a first choice, normally at loose head, until the end of the season.
For much of the following season he was kept out of the side by the return of Teague and Fowke and the emergence of Burton and Richardson but established himself in 1970-71, when he started to gain the attention of the local press and the county selectors for his fiery performances. Although Gloucestershire had reached the semi-final of the County Championship that season, the front row had not performed strongly and Cowling was brought in to make his debut at Gosforth against Northumberland. Gloucestershire won 9-6 and he went on to play in the final against Surrey at Kingsholm
His career started to take off in 1971-72. In a great season for local rugby, Gloucester won the first ever RFU Knock-Out Cup and Gloucestershire won the County Championship for the first time since 1937. Cowling played in both finals and that summer was chosen as reserve for the England tour of South Africa.
In 1972-73 the durable Cowling played in 45 out of Gloucester's 53 Games. He also played for Gloucestershire throughout their County Championship campaign, appearing in his third successive County Championship Final, and for Western Counties against the All Blacks at Kingsholm – a total of over 50 first class games in all.
His last season with Gloucester was one of mixed fortune for Robin Cowling. In a triumphant county campaign, he formed part of a fine front row with British Lions John Pullin and Mike Burton. The semi-final against Warwickshire was won 27-15 at Coventry and the final against Lancashire was won 22-12 at Blundellsands. It was a different matter at Kingsholm, where to quote the Citizen "vice captain Robin Cowling, who with Burton and Nicholls had formed the most solid front row in the club for many seasons, found himself relegated behind Keith Richardson and eventually Phil Blakeway."
Cowling moved to Market Harborough in 1974 to take a post as farm manager and joined Leicester Tigers. He was England reserve prop throughout the following season and went on to win eight England caps with Leicester between 1977 and 1979. Although he didn't play in the losing John Player Cup Final against Gloucester in 1978, he took part in Leicester's three successive Cup Final wins in 1979-80-81 and was capped by the Barbarians. Cowling retired at the end of the 1980-81 season.
Robin Cowling has been on the Exeter coaching staff since 1997, apart from two years with Cornish Pirates.  When Don Rutherford was RFU Technical Director, he asked Cowling to run a pilot academy scheme in the South West and he has been involved in academy rugby from the outset of the professional game. As team manager and talent scout, he has contributed substantially to Exeter Chiefs' current success.