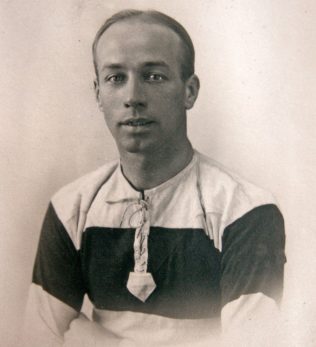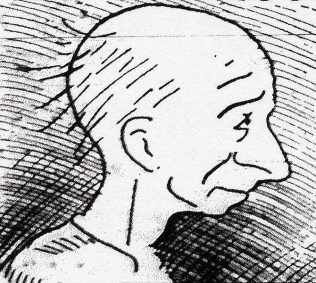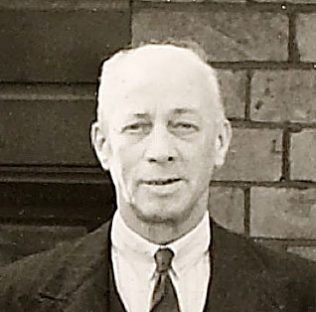 Tom Millington preferred to play at fly half, but he was capable of adapting to other positions in the back division, and Gloucester frequently employed him in different roles according to the availability of other players. His wonderful partnership at half-back with "Father" Dix was probably the outstanding period of his career.
Tom's parents were Thomas Millington, a timber dock worker, and Charity Mulberry Georgina Townsend; they married in Gloucester in 1891, and Thomas Henry was born the following year on 21st October at Standish, his mother's home village. The family was then living at 40, Morton Street, Gloucester, although they had moved to Gantry Yard, Bristol Road, Gloucester by 1901 and remained there in 1911. By which time Tom was employed as a draughtsman at Fielding and Platt, where he worked for 51 years.
Tom played his early rugby for the Gordon League, a nursery which supplied Gloucester with many fine players. He played 10 games and scored a try for Gloucester 2nds during the 1913-14 season, but World War One then intervened to put his rugby career on hold.
Along with the rest of the Gloucester Rugby squad, Tom signed up at the start of the war – he enlisted on 28th December 1914 as a driver in the Royal Field Artillery. He was later promoted to gunner, and was discharged in June 1919.
When Gloucester rugby resumed in the 1919-20 season, Tom rejoined the 2nd XV, scoring 3 tries and kicking 4 conversions, before being drafted in to play his first game for the senior side against Oxford University at Kingsholm on 8th November 1919. He marked his debut with the only Gloucester try in a 9-5 win (Lionel Hamblin kicked 2 penalties).
From the start Tom displayed a real gift for the game, and soon earned a regular place in the 1st XV, although he was initially selected out of position in the centre. Later in the season, Lionel Hamlin left Gloucester to join the professional ranks at Rochdale Hornets, which offered Tom the opportunity to demonstrate his worth at fly half, although he was still competing with Arthur Hall for that position. Other players new to Gloucester in this first season after the Great War were Tom Voyce and Sid Brown, and they along with Tom would develop into heroes of the Gloucester Club.
Tom made 20 appearances in the remaining 26 matches of the 1919-20 season, scoring 4 tries, 2 conversions and a penalty goal for 19 points. His other tries were against Moseley, Stroud, and the only score in a 3-0 win over Swansea towards the end of the season. In his summary of the season in the Citizen, WB wrote that "Tom Millington played bright and enterprising football. He was sound rather than brilliant, but it is hoped the best has not been seen of him."
He also made his debut for Gloucestershire in the County Championship, and played alongside 8 of his Gloucester teammates (Arthur Hudson, Fred Webb, "Father" Dix, George Holford, Sid Smart, Arthur Hall, W F Warde and Frank Ayliffe) in the final at Bradford on 17th April 1920. He was drafted into the side at outside half as a replacement for the injured Spoors, and helped Gloucestershire to a marvellous 27-3 win (3 goals and 4 tries to 1 try). So, within a few months of his first game of senior rugby, Tom was a County Championship winner. This was not enough to ensure him the outside half for Gloucester.
He kicked off the 1920-21 season with a try in the first match against Lydney, and went on to appear in 34 of Gloucester's 37 fixtures that season, more than any other player. His second try came in a famous 10-8 defeat of Harlequins at Twickenham, and his third was against United Services. Gloucester racked up 25 wins and went through the season unbeaten at Kingsholm (indeed the Gloucester faithful saw no defeats at home that season, with Gloucester 2nd XV and the County also unbeaten at Kingsholm). Gloucester enjoyed the rare distinction of defeating all 4 of the big Welsh clubs – Swansea 10-0, Newport 12-9, Cardiff 16-11 and finally Llanelly 11-8 – a feat previously achieved by Gloucester in 1898-99 (and only ever achieved by one other English club – Devon Albion). Tom played at centre in the game against Newport, with "Father" Dix at fly half – 11,818 spectators saw Gloucester defeat a Newport side containing ten internationals, labelled the "Invincibles" and unbeaten in 25 matches that season. The Gloucester team were presented with silver cigarette cases to commemorate their triumph. Tom finished the season with an individual points haul of 20, made up of 3 tries, 4 conversions and 1 penalty.
Tom was selected for Gloucestershire for all 5 County fixtures, as they beat Devon, Somerset and Cornwall in the South West group, before overcoming Surrey 21-3 in the semi-final of the County Championship at Kingsholm. Tom was one of 9 Gloucester players selected for the final, played at Kingsholm on 10th March 1921. What a day it was, as Leicestershire were beaten 31-4 in front of a crowd of 10,701 paying £1011-8-0, which were record takings for the ground. So, in his first full season of first-class rugby, Tom was a County Championship winner.
At the Club AGM in June 1921, Tom's election by the team as vice-captain for the coming season (with Sid Smart as captain) was confirmed.
In 1921-22, Tom played in 31 of the Club's 41 fixtures, took over as the main place kicker for the team, and was the top points scorer for the season. He ended with a massive haul of 154 points (beating the previous record of 152 by George Romans) from 13 tries, 37 conversions, 11 penalties and 2 dropped goals – he failed to score in only 5 of the matches in which he played. He started the season with a real bang, scoring in every one of the first nine matches, including tries in successive matches against Bath, Northampton (2) and Harlequins. He doubtless took great pleasure from kicking the conversion of Norman Daniell's try in atrocious weather to secure a 5-3 victory over Cardiff, from kicking the 2 penalties which defeated Llanelly 6-3, and from his 2 tries, conversion and penalty which contributed to a 17-3 win and secured the double over Leicester.
In his summary of the season, WB wrote: "The Dix-Millington combination at half-back was undoubtedly the City team's greatest asset, and as a pair they were second only to Davies and Kershaw, judged on the form of opposing couples. And against the Internationals at Portsmouth, in the match with the Services, the Gloucestrians came out top on the day's play. The perfect understanding between Dix and Millington contributed largely to their success, and between them, with those clever inter-passing movements, they scored some of the best tries of the season." Unfortunately for Gloucester, and for Millington, Dix announced his retirement from the game at the end of the season, having enjoyed a long and successful career with Gloucester which had started in 1907-08. WB went on: "Millington always fancied the position of outside half, and he has certainly made a big success there. Skilful in attack, he also proved sound in defence, and his beautifully-judged touch-kicking proved of immense service to his forwards. The popular vice-captain came in  for more than his share of hard knocks – in one or two games he was marked out for undue attention – but Millington never shirked his duties, and he turned out on several occasions when, had he studied his own interests, he might legitimately have taken a rest. Millington's personal success in point-getting has already been referred to; he is so keen a player that further distinctions are almost bound to come his way if real merit has its due reward."
Tom was again an ever-present in the Gloucestershire team in 1921-22, and also performed occasional goal kicking duties for the County. They narrowly beat Devon 9-6 at Torquay in their first match, the County's first win in Devon since 1907-08, before gaining rather easier victories over Somerset (16-6) and Cornwall (34-3) at Bristol and Kingsholm respectively. This led to a semi-final against Surrey at Richmond which was drawn 8-8, resulting in a replay at Kingsholm, in which the Gloucestershire side containing 10 Gloucester men played brilliantly to run out winners 30-0. On 9th March, Tom travelled to Villa Park, Birmingham, for the final, along with 8 of his Gloucester teammates. They secured a 19-0 win over North Midlands. Tom kicked a conversion, and the County Championship had been retained.
During the summer of 1922, Tom was re-elected as vice-captain, but now serving under Frank Ayliffe as captain.
In 1922-23, Tom played in 31 of Gloucester's 43 fixtures, scoring 89 points from 4 tries, 32 conversions, 3 penalties and 1 dropped goal (he failed with 42 kicks at goal, but this return of almost 50% was good for the time, with leather balls which were far from perfectly shaped and became much heavier in wet weather).
Tom was again a fixture in the County side, but a loss to Somerset meant that Gloucestershire did not progress beyond the South West group. He was also selected to play an International trial for The Rest v England, but failed to win the coveted cap.
At the end of the season, WB summarised: "Last season Millington greatly distinguished himself by establishing an individual record in points, and was one of the most consistent club players in the country. Operating with a new partner he was naturally handicapped, and though accomplishing good work, his form except on rare occasions, did not reach the high standard he had previously set up. Later in the season the vice-captain was removed from the outside half to centre three-quarter, and he also figured at full-back against Devonport Services and Plymouth Albion. This latter move proved a decided success, and if Millington should fancy the position as a permanency there is little doubt as to his all-round fitness for the post."
In June 1923, Tom was elected as captain for the coming season, with Arthur Hall as his vice-captain. Under his captaincy, the team played 39 fixtures in 1923-24, winning 24, losing 14, drawing 1, and scoring 426 points against 310. Tom played in 35 matches and scored 103 points from 5 tries, 26 conversions and 12 penalties. For much of the season he was played at centre. WB thought that "the best three-quarter line was Brown, Saxby, Millington and Crowther. The captain had his off days, especially in mid-season, but on the whole he rendered valuable service to the side."
Tom played for the County in all their 1923-24 matches, but this again amounted only to the 3 games in the South West Group – slipping up once more against Somerset, Gloucestershire failed to progress further.
For the 1924-25 season, Tom was replaced as captain by Tom Voyce, with Sid Brown as his vice-captain. As outgoing captain, he proposed at the AGM that George Halford and Sid Smart be made life members of the Club. Tom played in 31 of Gloucester's 40 fixtures, normally turning out at full-back; he scored 68 points from 1 try, 28 conversions and 3 penalties. During this season, Tom played in some of the most memorable games of his rugby life.
On 25th September 1924 Gloucestershire took on the all-conquering All Blacks at Kingsholm in front of a capacity crowd estimated at 12,000-13,000. Tom was one of 4 Gloucester players selected, and put in one of one of finest performances of his career at full-back. The match was played in pouring rain, and the mighty visitors were held to a 6-0 win (not bad against a team which averaged 24 points per match throughout the tour). WB wrote later: "I always regarded Millington's display for Gloucestershire against the undefeated All Blacks, at Kingsholm in 1924, as one of his finest efforts. Heavy rain fell practically throughout the game and made conditions a testing time for the players, but Millington was rarely at fault in his fielding of the ball, whilst his positioning, tackling and touch-kicking reached a very high standard. George Nepia, the famous New Zealand custodian, had nothing in hand over the Gloucester man that afternoon."
On 13th November 1924, Capt W S Donne, President of the RFU, brought a team to Kingsholm to celebrate the 50th anniversary of Gloucester Football Club. Tom played at full-back for Gloucester and contributed a conversion to the scoring, but it was his defence which caught the eye and saved his team on numerous occasions. WB reported that "Millington, at full-back, gave a splendid display, and his tackling was immense. Catcheside and Quick both tested the Gloucester man several times, but not once did Millington fail." A spectacular try at the end of the game gave Gloucester a thrilling 11-9 win.
Tom was selected for every County game in a season when Gloucestershire won their first two games at home to Devon and away to Somerset, before appointing Tom as captain for the first time for the tricky visit to Redruth. A 6-5 win there against Cornwall took them into a semi-final at Kingsholm against Middlesex, which was won rather luckily 10-9. He played at full-back in the final at Bristol, which was lost 6-14 to Leicestershire.
Tom was selected for his second England trial on 6th December 1924 at Bradford, when he kicked a conversion for the South  in their 5-13 defeat by the North. He was not selected for the final trial, and his hopes of an England cap were again dashed.
In 1925-26, Tom led the list of appearances with 35 out of Gloucester's 37 matches.  He scored 128 points from 1 try, 46 conversions and 11 penalties. Tragedy again struck during this season. On 3rd April 1926, Gloucester played Aberavon at Kingsholm, in the course of which Sid Brown ruptured a kidney. At first the seriousness of the injury was not apparent, and indeed Sid carried on playing, but he collapsed that evening, and died the following day. Tom would have felt this loss keenly – not only was he playing in the match, but he and Sid had started in the Gloucester side in the same season, and in those early days they often played alongside one another as centre and wing. This was the second such loss which Gloucester had suffered – the previous season, Stan Bayliss had died as a result of injuries sustained in a match at Kingsholm.
Tom did not appear in the Gloucestershire side in their early matches in 1925-26, but he won another 4 caps in the later stages of the County Championship, culminating in their defeat 6-16 to Hampshire in the semi-final. To also had the honour of captaining the County to their first victory over a touring side, when they beat the New Zealand Maoris at Bristol, winning 3-0, a penalty kicked by the captain.
At the players' meeting in June 1926, Tom Voyce proposed that he should give up the captaincy in favour of Tom Millington, but Millington declined, and Voyce reluctantly agreed to carry on as captain. Tom Millington did however agree to become the players' representative on the Club committee.
1926-27 was to be Tom's last season with the Club, and he was back playing in his favourite fly half berth. He played in 33 of the 40 matches, scoring 124 points from 11 tries, 28 conversions, 9 penalties and 2 dropped goals.
On 10th November 1926, he was given the honour of captaining Gloucestershire against the Maoris at Bristol. Tom kicked a penalty from 50 yards, which was the only score in the 3-0 win, the first time that the County had defeated a touring team.
Tom played his final game for Gloucester in the last match of the season, a 3-11 defeat at Cinderford.
WB's summary of the season carried the headline "T Millington the Outstanding Player", and eulogised as follows: "Gloucester's outstanding player has been T Millington, and the City would have fared ill indeed without him. Restored to his old position at outside half, Millington displayed all that finesse and skill which made his partnership with W Dix such a conspicuous success, and his consistency was remarkable. Fortunately he was available for nearly all the matches, and his form at the finish was as good as ever. His experience and sound judgement helped the side out of many difficulties, and in attack he was the brains of the team. What he accomplished in actual scoring does not convey anything like a full appreciation of his real worth. Rumours are current – these are common at the end of the season – that Millington is desirous of retiring from active participation in the game, but it is hoped he will be prevailed upon to postpone his decision for at least another year so as to give the younger players the benefit of his expert advice and counsel, both on the field and off."
There was a further tribute at the Club AGM in the summer, when the Chairman, J T Brookes was reported as saying that "he did not think they could pass that meeting without mentioning Mr Millington's wonderful play last season. (Applause)What they should have done without him one dared not think. If he were described as a "veteran" none of them minded being a "veteran" (Hear, hear)." Tom was re-elected as the players' representative on the committee.
Tom finished his Gloucester career with a tally of 250 appearances and 705 points, made up of 42 tries, 203 conversions, 51 penalties and 5 dropped goals. He won 34 County caps, including 4 County Championship finals, finishing on the winning side in 3 of them.
At the Club AGM in June 1928, it was proposed that the committee should elect Tom Millington as a life member of the Club, and at the AGM a year later, he was elected to the Committee. He was to serve on the committee for some 30 years, acting as Chairman for 4 years before WW2.  He was later elected as Vice-President of the Club. He was also a life member of Gloucestershire RFU, for whom he served as a committee member, and became President 1950-52.
Tom died on 21st July 1969 at Standish Hospital, aged 77, after a short illness. His funeral was held at St Luke's Methodist Church, followed by cremation.