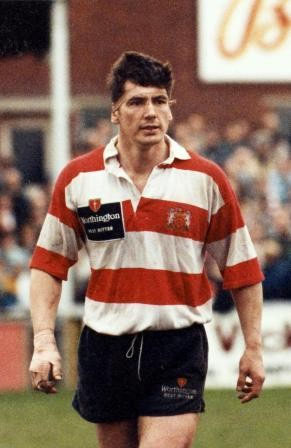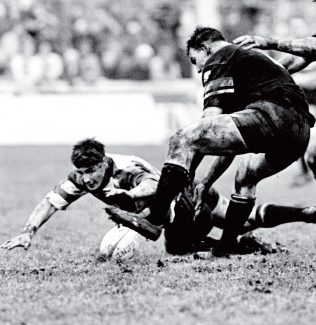 Gloucester
Ian Richard Smith was born in Gloucester on 16/03/1965, the son of Richard 'Dick' Smith, who had played over 500 times for Gloucester, including the club's victory in the first domestic cup final in 1972. A dynamic open-side flanker skilled at making turnovers, Ian graduated to Kingsholm via Thomas Rich's School and Longlevens club. He helped Gloucester Colts win their first ever trophy in September 1979, when they won the Stroud invitation sevens tournament, beating Bristol 10-6 in the final. From here he progressed up the ranks, playing for Gloucester United. He was sent off on his first team debut against Rosslyn Park in 1982 for fighting, having come on as a sub only ten minutes earlier. With his father as first team coach at the time, the 18 year old Smith learnt an important lesson and didn't receive another red card during what would be a long playing career at the top level.
Over the coming seasons Smith began to establish himself as a first team regular at Kingsholm. During the 1987-1988 season he helped Gloucester to a 5th place finish in the Courage League National Division One – the first season of a truly national league competition in the top tier of English rugby. That summer he traveled down under to play for Woolongong, before returning to help Gloucester finish as runners-up to Bath in the 1988-1989 league table and reach the semi-final of the Pilkington Cup – losing out once more to Bath. Gloucester again went close to being crowned champions of England the following season, this time finishing in second place to Wasps. Bath were becoming a real thorn in the side for Gloucester and in 1990 the West Country rivals met in the Pilkington Cup final at Twickenham, in what was Smith's 200th appearance for his home town club. Unfortunately, he could do nothing to prevent a 40-6 defeat, as Bath retained the cup.
After almost 10 years at Gloucester he was made first team captain at the start of the 1991-1992 season. Leading the club to the Pilkington Cup semi-final in his first year at the helm, where they suffered a narrow extra time defeat to Bath at Kingsholm. He went on to captain Gloucester for the following three seasons, guiding them to 4th, 5th and 8th place league finishes respectively. Smith was replaced as captain by Andy Deacon for the 1994-1995 season, but remained a key figure at Kingsholm until 1997. During which time he played in the 1996 Pilkington Cup semi-final defeat to Bath at the Recreation Ground. Top-flight rugby had turned professional in 1996 in England and civil engineer Smith found his first team opportunities limited under then Gloucester head coach Richard Hill. Leading him to seek playing opportunities elsewhere after 15 years at the club.
Post Gloucester and coaching
Despite receiving interest from Bristol to acquire his services, Smith moved to Courage League Division 2 side Moseley towards the end of the 1996-1997 season. He went on to play 26 times for the Midlands club, before retiring from playing and taking a coaching role at Newport in Wales. Here he worked under his former coach at Moseley, Allan Lewis, who was also the incumbent Welsh national team backs coach at the time. Gloucester then acquired his services, as he returned to his home town club to work with both the senior and academy players, before becoming coach at Cheltenham alongside former Gloucester team-mate Don Caskie.
With this valuable coaching experience under his belt, Smith returned to former club Moseley as head coach in 2004, appointing Don Caskie as backs coach. Replacing former Gloucester and England back-row forward Steve Ojomoh, who was axed after a year in charge. Since Smith's departure as a player, the club had slipped into the third tier of the English league system. After finishing 3rd in the league in his first year in the hot seat, he led Moseley to promotion as 2006-2007 champions. The following season a final day victory at Waterloo ensured their National Division One status for another year. Before the 2007-2008 season kicked off, Smith helped to arrange a ground-breaking player arrangement with Premiership club Gloucester. This enabled Gloucester's England Academy players to be dual registered to play for both clubs – increasing the pool of talent available to him for selection. Silverware soon followed, when Moseley won the 2009 EDF Energy National Trophy, defeating Premiership-bound Leeds 23-18 in the Twickenham final. Although this was Moseley's fourth visit to Twickenham for a national cup final, Smith had helped the club to achieve its first outright victory, having shared the cup with Gloucester in 1982 after a draw. In August 2010, Moseley allowed him to accept a dual coaching role at Hartpury College. Effectively ending his status as the club's full time head coach, as they implemented cost-cutting measures. Smith divided his time between his role at Moseley and assisting former colleague Allan Lewis at the Gloucestershire-based academy. With Lewis coaching the Saturday side competing in the National Leagues, Smith was charged with maintaining Hartpury's success in student rugby – in which most matches are played on a Wednesday. This role also enabled him to oversee the development of some of Moseley's dual registered players who studied at Hartpury.
In April 2011 he announced the end of his seven year tenure at Moseley. During which time he had re-established the club as a permanent fixture in the second tier of English rugby and delivered both league and cup silverware. In September of the same year he left his post at Hartpury to experience the challenge of coaching on the international stage. Joining Don Caskie in the Georgian national set-up as their under 19 head coach. He spent more than a year working with the national rugby academy in Georgia. Taking charge of the squad for the 2011 FIRA Under-19 tournament in Romania and helping to nurture a number of players who went on to represent the senior side. In February 2014 Smith was hired by the Portuguese Rugby Football Union as a technical adviser.
International and representative rugby
Despite being born and bred in Gloucester, Smith was eligible to represent Scotland due to Scottish grandparents. Having already been an England under 18 and under 23 trialist, further indication that he was progressing towards international honors came in November 1987, when the Anglo-Scots District side inquired about his services for the Scottish inter-district matches, which were essentially Scotland trial matches. Still harbouring ambitions to play for England, he instead chose to be available for the South West in the Divisional Championship, which clashed with the games north of the border. This decision seemed to be vindicated when he was selected to play for England B against a Spanish Select XV in 1989. Following this he was included in an England training squad in September 1990 and another England B squad the following month.
With his opportunities within the England set-up limited, Smith instead opted to pursue an international career with Scotland. In December 1990 he played for an Anglo-Scots team – he played for the Anglo-Scots and the Scottish Exiles on 6 occasions in total – against South Scotland, before making the Scotland B squad in the same month. 1991 began promisingly for him as he captained Scotland B in defeat to Ireland, putting in a strong individual display, which led him to him being invited to play in another trial match. Having played for Scotland in the Hong Kong Sevens, he narrowly missed out on a place in their 1991 Rugby World Cup squad.
Having cut his teeth at various levels on the international rugby ladder, Smith finally made his full Scotland debut on January 18th 1992 in a 25-7 Calcutta Cup defeat to England at Murrayfield. Following two further caps against Ireland and Wales in the 1992 five nations, he was selected for Scotland's summer tour to Australia, where he led the side in the tour match against New South Wales and played in two test defeats to the hosts. At the end of the 1992-1993 season, he packed his bags and headed to the South Pacific to play in three non-cap internationals, against Fiji, Tonga and Samoa.
Not only did 1994 see him gain five more international caps, including two away versus Argentina in Buenos Aires, he also helped Scotland A to a famous victory over South Africa. One of the highlights of his career came when he was selected in the Scotland squad for the 1995 Rugby World Cup in South Africa. Smith played one game in the tournament, as the Scottish comfortably saw off the Ivory Coast 89-0 in the group stages. He played in all four of Scotland's games in the 1996 Five Nations, losing only to England at Murrayfield, who pipped them to the title on points difference. At the end of the season, he went to New Zealand on his fourth and final summer tour with the international team. Having left Gloucester in 1997, Smith was still performing well enough to gain four more caps, despite playing for Moseley in the second tier of English rugby. His twenty fifth and final Scotland cap came on 6th December 1997 in a 68-10 defeat to South Africa at Murrayfield.
During his long playing career, he also represented Gloucestershire Colts, the South West Divisional side and The Barbarians. He played seven times for the famous invitational side between 1990-1993, scoring two tries, captaining them against Newport in 1992 and also taking on Australia at Twickenham.