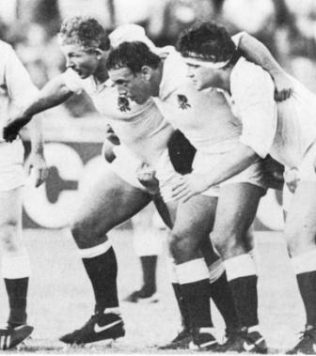 Malcolm Preedy exploded on to the scene in 1979, when in only his fourth game, playing against Newport, the Citizen wrote, "19 year-old Preedy, who has rocketed to prominence in just four senior games was outstanding. When halted he never failed to make the ball available."
Preedy had a long career with Gloucester, captaining the club in 1986-87. He won a single England cap, and was part of the winning side in two County Championship finals. He was a regular selection for the South & South-West Division team, and also played for the Barbarians in 1984.
He was born on 15 September 1960, in Denmark Road Gloucester, just a stone's throw from Kingsholm. He was educated at Hucclecote Secondary School, and then played local rugby for Longlevens, that breeding ground of so many Gloucester players. Malcolm played his first game for Gloucester on 3 October 1979 against Clifton, but did not score his first try until his 30th appearance on 3 December 1980 against Torquay Athletic. The second came much more quickly, in the following game against Pontypridd.
In December 1981 the South & South-West team to play the touring Australians boasted the entire Gloucester front row, Preedy, Steve Mills and Phil Blakeway. The same front row would play against the New Zealand tourists in 1983. In this game Malcolm had to come off due to concussion. Preedy would also appear in five more South & South-West teams in the Divisional Championship between 1985 and 1988.
Malcolm made his Gloucestershire debut in November 1981 against Cornwall. That season was a good one for Gloucester, and Malcolm appeared in every round of the John Player Cup. Gloucester were firm favourites to win the final against Moseley, but a disappointing game ended in a 12-12 draw, after extra-time, and the cup was shared for the only time in its history.
In 1983 and 1984 Gloucestershire won the County Championship. Malcolm was in the team on both occasions. In 1983 Yorkshire were beaten 19-7, and in 1984, Somerset were hammered 36-18 at Twickenham. In all Malcolm made 16 appearances for the County.
Preedy won his sole England cap in the first test of the tour of South Africa in June 1984. The combination of Preedy, Mills and Blakeway was selected. Not only that, John Fidler was in the second row. Unfortunately, England were beaten 33-15, and the entire front row was dropped for the second test. It made no difference to the result, South Africa won 35-9!
Malcolm was made club captain for the 1986-87 season. Of 47 games played, 30 were won. There was a notable double over Leicester, the game at Kingsholm resulting in a 41-6 victory, with the Cherry & Whites scoring eight tries.
In October 1988, Malcolm played for the South-West Division against Australia, and scored a try in a fine 26-10 victory. The front row this time consisted of Preedy, Kevin Dunn and Richard Pascall. Later in the same season there was a very tight club game at Bristol. It was finally decided by the most unlikely method. Malcolm kicked a drop goal (the only one of his career) to win the game 15-13. The following week the Gloucester Programme noted, "I believe that there is no truth in the rumour that Malcolm Preedy is to take the drop-outs today."
In the 1989-90 season, Gloucester seemed to have every chance of achieving a league and cup double. By April, all they had to do was beat Nottingham away to be champions. Malcolm was in the team which lost 12-3, which left Wasps as champions. The following week, Malcolm and Co. lost to Bath in the Pilkington Cup final 48-6!
In the 1990-91 season Malcolm's place came under increasing pressure from Pete Jones. He made only ten appearances that season, and the following campaign proved to be his last. However, he went out in style. In his penultimate game against Cheltenham, and acting as captain, he scored two tries. His final game was on Boxing Day, 1991 against Lydney.
Malcolm went on to play for Cheltenham for several seasons, and was also club captain.
Malcolm was a-down-to-earth Gloucester boy, as was the whole team in those days. He tells a story about an away game: "The Harlequins committee complained to the club about the state we were in when we got off the bus for the game. They said we looked like we had just walked off a building site, but most of us had. Our side was full of builders, chippies, plasterers and electricians. You only had to flick through the match programme to see the difference between us and them. Our programmes had adverts from the corner shops around Kingsholm. Theirs were full of adverts from banks and airlines."