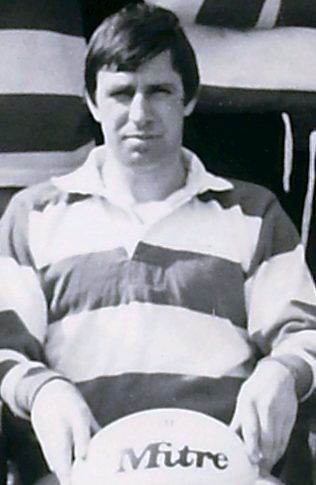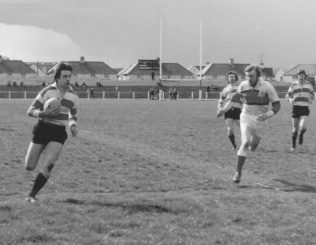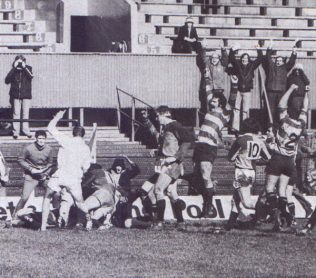 One of Gloucester's famous '500' club, winger Bob Clewes is third on the all-time list of individual appearances, behind Alan Brinn and Dick Smith, having played 538 1st XV games for Gloucester between 1968 and 1982. His deceptive pace and powerful running made him one of the game's most dangerous wings and one of the most prolific scorers in club rugby; it is unlikely that his Gloucester club record of 284 tries will ever now be beaten. Topping thirty tries in a season three times (1970-71, 1975-76 and 1976-77), he passed the twenty mark on no less than seven occasions and was Gloucester's leading try scorer in ten of the fourteen seasons in which he played. He was one of three players (the others were England internationals Mike Burton and John Watkins) to play in Gloucester's cup-winning sides of 1972 and 1978. He played regularly for Gloucestershire from 1973-79 and appeared in three County Championship Finals (1974-76-78), the first two on the winning side.
Robert John Clewes was born on 10 November 1949. He played schools rugby at Archway Secondary School Stroud and made his debut for Stroud 1st XV as a schoolboy. He joined Gloucester in 1968 and was still only eighteen when he made his club debut against Lydney in September.
Bob played 35 games in his first season, scoring 24 tries. In his second, he became the first Gloucester player to play 50 games in a season, and again scored 24 tries, and in his third he scored 33 tries in 48 games, including a brace of tries against Leicester and Northampton and a hat trick against Bristol.
He was a member of the Gloucester team that beat Moseley by 17 points to 6 in the inaugural Knock Out Cup Final in 1972, playing through all five rounds of the cup campaign and scoring a try in the second round tie at Bristol,
By the time he finally made his county breakthrough against Cornwall in the 1973-74 season, he had already scored over 100 tries and played over 200 games for his club. He scored two tries in the 27-15 win over Warwickshire in the semi-final and became a County Championship winner in his first season with Gloucestershire when Lancashire were defeated 22-12 in the final at Blundellsands.
In September 1974-75 he was injured when he collided with the corner flag in scoring the opening try against Waterloo at Blundellsands and was stretchered off. A cartilage operation followed in November. Competition for places on the wing was fierce and he had difficulty regaining his place. Despite this, he scored 11 tries in the 15 games that he played.
Restored to full fitness the following season, Bob scored a remarkable 32 tries in 33 games. He regained his county place and played in the final victory over Middlesex, repeating his feat of two years before.
1977-78 was a great season for Gloucester under the captaincy of John Watkins with a record number of games won. They were able to field the same starting XV throughout their successful John Player Cup campaign which reached its climax at Twickenham with a 6-3 victory over Leicester. Bob scored the winning try in the semi-final against Harlequins and again played in the County Championship Final, but this time was on the losing side against North Midlands at Moseley.
In November 1978 Bob was on the bench for South and South West against the All Blacks at Bristol but returned to Gloucester that evening to take part (and score) in his club's 46-20 victory over Exeter University. The Citizen commented that the match at Kingsholm was considerably more entertaining than the fare dished up at Bristol! In March that year after a month without a try, he scored a hat trick at Plymouth to break Arthur Hudson's club record for the number of tries scored in a career, a record that had stood for 59 years.
It was fitting that Bob Clewes was elected club captain for the following season 1979-80. He elected to play a more expansive style of rugby in his year of captaincy, bringing in Keith Richardson as coach in place of the more forward-oriented Mike Nicholls. Bob played in all 50 1st XV games, the second time that he had played 50 games in a season. The only other player to achieve this feat is Mike Nicholls himself.
Bob was leading try scorer again in 1980-81 and played a further 22 games in Gloucester's record-breaking 1981-82 season, finishing his career against Exeter at Kingsholm on April 24. After retirement he became a selector and served on the Gloucester Committee until the onset of professionalism in 1997.