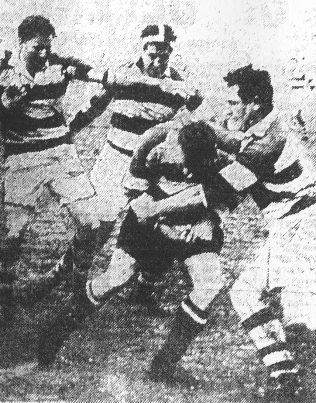 Cyril Thomas played 362 games for Gloucester between 1948 and 1960 and captained the club in 1958-59. He played for Gloucestershire, captained British Police and was an England trialist. Slightly built and quick around the field, he was renowned as an old fashioned specialist hooker.
Cyril C Thomas, born in 1926, learnt his rugby at LydneyGrammar School, playing for the 1st XV in 1944. In the 1945-46 season he turned out for Yorkley R.F.C. and in the following season for Lydney. The Gloucester Citizen noted in 1947 that "since the return to hooking of the slightly-built but energetic C Thomas the Lydney forwards have operated with increasing success at the set scrums and have earned credit for their splendid performance in the loose."
He played for Lydney at Kingsholm in September 1947 but made his debut for Gloucester in the February of the same season when the side was short of a hooker against Oxford University. He then played regularly for the 1st XV until 1950-51 when he returned to Lydney for a season, playing in an 8-3 win over Gloucester at Kingsholm in the opening game of the season.
Cyril Thomas returned to Gloucester in 1951-52 and was first choice hooker for the next ten seasons. Although acknowledged as one of the most skilful specialist hookers in the country, he had difficulty in gaining further recognition. He broke into the Gloucestershire side in the mid –fifties but lost his place to John Thorne of Bristol and England, who became a fixture in the county side.
In 1956-57 he was chosen to play for Combined Western Clubs against the touring South African Universities side, the Sables, and at the start of the following season he played for Ranji Walker's XV against Newport.
Thomas captained Gloucester in 1958-59. It was a difficult season in which injury and inexperience played its part, especially among the backs. Gloucester won only 17 of their 42 games. Cyril Thomas's form was good, however and on February 7 against Bristol the Citizen noted that "he had the edge in the hooking battle with England hooker John Thorne."
In 1959-60, although 33 and approaching the end of his career, Cyril Thomas was in fine form. He regained his county place after an absence of several seasons and on December 5 he played for the Colours against the Whites in the first England trial. The Citizen referred to the "eclipse of Scottish international hooker Norman Bruce" and the "brilliant striking" of Cyril Thomas in the game against London Scottish on January 2.
Although it was thought that 1960-61 would be his last season, Cyril Thomas was chosen for Gloucestershire in a friendly against Yorkshire and in the South Western group games. He was hooking consistently well. He decided to retire, appropriately, on New Years Eve 1960 and in his final game for the club the Citizen reported "Nobody could deny that he lived up to his reputation for fast striking."