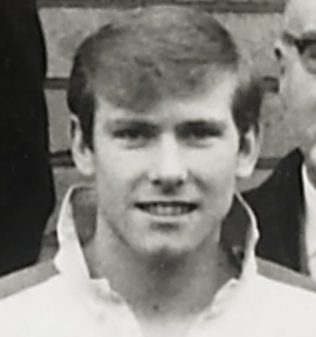 Roy Morris
Three-Quarter son of a famous father
Centre, wing, 1964-74, 229 appearances
Roy Morris had a hard act to follow.  He was the son of one of Gloucester's most legendary players, "Digger" Morris.  Roy was a three-quarter with a fair turn of pace, who normally played in the centre, but also appeared in several games on the wing.  He played for ten seasons, and for most of that time had to fight hard to keep his place against keen competition.  It was a credit to his tenacity that he played in 229 games.
Keith Royston Morris was born in the summer of 1945 in Gloucester.  He made his first appearance for Gloucester on 14 November 1964 against Moseley whilst six  players were on county duty with Gloucestershire.  Considering this was a 15-9 defeat on Moseley's ground, it was not too bad a result.  Roy quickly established himself in the centre, partnered by burly Ron Pitt.  In March and April, Roy scored tries in four successive games against, Royal Navy, Guy's Hospital (2), Newport and Cardiff.  Gloucester won the Cardiff game 23-3, one of the biggest wins achieved against the famous club.  Bob Timms (2), and Terry Hopson scored the other tries, whilst Don Rutherford kicked four conversions and a penalty.  In that first season Roy appeared 28 times, scoring nine tries.
The following season Roy was again a regular choice in the centre, and was in the team which had a fine 14-13 win over Welsh giants Newport, but a broken wrist suffered in March 1966, ended his season.  In the 1966-67 season, he moved out on to the right wing, because Dick Smith, who normally played in the back row, was tried out in the centre because of his pace and elusive runs.
In the 1967-68 campaign John Bayliss and Ron Pitt became the regular choice in the centre, with Richard Jardine also in contention.  Again, Roy moved on to the wing to find a regular game.  In the next campaign Morris seemed to be back in contention in the centre only to be badly injured in October playing against Newport.  He would play no further games that season.
By 1969-70 competition in the backs was no easier.  In the centre Roy was now up against John Bayliss and Richard Jardine, whilst on the wings Bob Clewes and John Dix were the players he had to try to displace.  Roy still appeared 18 times and scored six tries.  He made his single county appearance this season, on 8 November 1969 against Devon at Kingsholm, playing on the wing.
In the next campaign, although Jardine and Bayliss remained the first choice centres, there were enough opportunities through injuries for Morris to play in 30 games, including in March a fine 16-0 win at Kingsholm against Newport to complete a double over the Welsh side.
In 1971 the RFU introduced the National Knock-out Competition, and Gloucester progressed smoothly, although drawn away in every round.  Bayliss and Jardine were still the regular centres, but come the final, Jardine was injured and Roy took his place.  The final was against Moseley at Twickenham.  Moseley had a player sent off after five minutes, and two further players departed through injury, leaving them with only twelve, as replacements were not permitted in those days.  Consequently, the game became an anti-climax.  However, Roy scored a try in the first half.  John Dix obtained another, whilst Tom Palmer and Mickey Booth kicked drop goals.  Eric Stephens scored a penalty, and Gloucester ran out 17-6 winners.
In the 1972-73 season starts were again hard to come by, but in the new year John Bayliss was injured and Roy had a long run of games.  In the next campaign Tom Palmer moved to the centre to accommodate the arrival of Bob Redwood at fly-half.  Another centre, Bob White also appeared on the scene from Cheltenham, and starts for Roy became rare.  He played his final game on 29 April 1974 against Camborne, on the annual Cornish tour.  Gloucester scored 70 points!