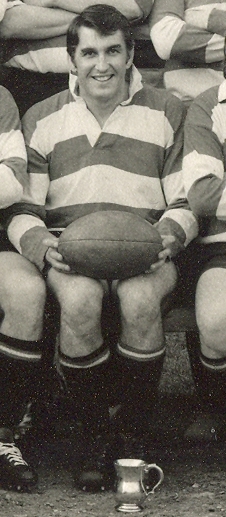 Harold "Hal" Symonds was a wing forward who played 73 games for Gloucester between 1959 and 1967 and for Gloucestershire in 1960-61. He played many more games for Gloucester United and was perhaps most noted as the captain of the outstanding United side of 1971-72.
Harold Symonds was born in Tuffley, Gloucester in 1938 and was educated at Central School. After spending four years in the Royal Navy, during which he played for All Blues and Old Centralians while home on leave, he left the service and joined the Gloucester club in 1959.
Symonds joined the club on their 1958-59 South West tour and played in the last two matches of that season at Teignmouth and Taunton. His Kingsholm debut was made in the first match of the following season. He played in the centre partnering Terry Hopson in Hopson's own debut match for Gloucester against Stroud. Neither was to remain in the centre for long! Hal Symonds quickly realised that he lacked the pace and asked to play in the back row where he established himself in the United side.
1960-61 was his most successful season. He broke through into the 1st XV and county  recognition soon followed. He gained a reserve card for Western Counties against the Springboks at Kingsholm and then in April played in a re-arranged Championship game against Somerset. The Citizen rated him "the star of the Gloucestershire pack." However, after playing for Gloucester against a star-studded International XV at Kingsholm later that month, he broke his ankle in the following game at Stroud.
Coming back from injury in October 1961, he struggled to regain his place and his first XV appearances became more limited, although he remained a key squad member. He started the 1962-63 season well and a good performance against Bristol in September earned him selection for Gloucestershire against Monmouthshire at lock. During another good run at lock at the start of 1964-65 he featured in outstanding pack performances at Bristol and Cardiff.
Deciding that 1971-72 was to be his last season, Harold Symonds accepted the United captaincy. It was to be one of the finest-ever seasons for the second team in which 159 tries were scored in 33 games with 23 wins and 3 draws achieved.
On retirement, he served on the GRFC Committee for four years until standing down due towork commitments. He is currently (2011) Chairman of the Former Players Association and a member of the Hartpury College RFC Committee.