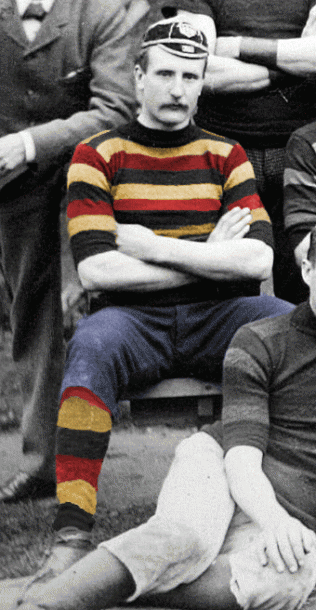 Charles Edward Brown was born in Gloucester on 3rd June 1866, the son of Charles Brown, who worked in the family business set up by his father, Gopsill Brown. They were a Quaker family. The company was Gopsill Brown and Sons Ltd., sack contractors, who for many years owned The Lock warehouse on Gloucester Quay, a Grade II listed building which is now apartments. The firm supplied sacks to farmers over a wide area and employed a fair number of staff in the mending and distribution. It was wound up in the 1990s.
Charles Edward grew up in South Hamlet, Gloucester, but was probably later sent away to a Quaker school, since he was not living with his parents in Longford in 1881. He initially took up soccer, making three appearances and scoring two goals for Gloucester City Association Football Club in 1885, before turning his attention to rugby. He made his first appearance for the Gloucester First XV on 3rd October 1885 in the first match of the season against a Colts XX, playing eleven games by the end of that season.
He was a regular in the team for the next four seasons, playing in all but three of the Club's 19 fixtures in 1886-87. He scored his first try on 6th November 1886 away at Swindon Rangers, and his second at Kingsholm against Willesden (London) on 10th February 1887. He scored a try in the County trial at the Spa, Gloucester, on 13th November 1886, and made his debut for Gloucestershire against Somerset on 22nd February 1887 in a draw, one try apiece at the Spa.
In 1887-88, he made 14 appearances and scored four tries, one in the pre-season game, and then three, all in away matches, at Clifton, Swindon Rangers and Bath. He was again selected for the County trial, held at the Spa on 5th November 1887, and subsequently won another County cap on 11th February 1888 against Devon, when he scored one of Gloucestershire's three tries; although Devon managed only try and a goal in response, they won the game by virtue of scoring the only goal.
Another 14 appearances in 1888-89 produced two tries during a season most notable for four matches against Cardiff, the first three drawn and the last won away. At the end of the season, WB wrote in the Citizen that "C E Brown, as one of the inside three-quarters, has shown great improvement in his passing, and has also proved himself an invaluable defensive player, especially in stopping ugly rushes". The County trial saw Gloucester pitched against the Rest of the County, but Charles did not play. However, later in the season he won three further caps against Devon, the New Zealand Maoris (during the first tour of this country by an international side) and Oxford University, all of which were lost.
Charles was elected captain for 1889-1890 and led the Club through a moderately successful season, in which they played 25, won 14, lost eight, drew three, and scored 21 goals and 47 tries whilst conceding only three goals and eleven tries. Charles certainly organised a very tight defence, which resulted in a run of nine successive games in which their opponents failed to score, and twelve in which a single try by Cardiff was the only score conceded. Charles himself played in all but two of the fixtures, kicking a field goal in the pre-season match, the only points scored from a kick in his career. He scored eight tries during the season, and seemed to have favourite opponents, since most of them were against Clifton, Swindon Rangers and Bath, but he added a brace against the Royal Agricultural College, Cirencester.
He again took part in the County trial at the start of the season, and went on to win three more caps for Gloucestershire against Somerset, Devon and Midland Counties, the first two won and the last drawn. He also played in an England trial for Western Counties against London at Weston-super-Mare on 6th November 1889, which resulted in defeat by one goal to four goals and one try.
WB concluded that "the captain has done good service, and though, on occasions he has not exhibited such ability as might be desired in the attacking line, yet he has collared well, and proved of great value at times owing to his admirable saving of rushes, in which respect he has earned a big reputation. As captain he has led the team well, and his energy and zeal on behalf of the Club have been untiring."
However, at the AGM in the summer of 1890, Charles commented that "the passing game as at present played was overdone, to the exclusion of kicking, which would often be more advantageous to the side". Charles stood down as captain and player, although he came out of retirement to play one more game for the Club in 1890-91 and two in 1891-92. He made a final appearance for Gloucestershire against Midland Counties at Coventry on 9th December 1891, and scored a try in his final Club game when Coventry were beaten on 19th December 1891.
He finished with a record of 81 appearances, 17 tries and that single field goal, having been prepared to play in any position where the Club required him – as full-back, three-quarter, half-back and forward. He won nine caps with Gloucestershire.
Charles went on to the Club committee, attended the opening of Kingsholm on 10th October 1891 as a Club official, became Secretary, and later President in 1902-12. In 1892, he married Edith Theyer at Badgeworth, and they set up home in South Hamlet, Gloucester. He was employed in the family business as a sack contractor (canvas). Charles died at Foy, near Ross-on-Wye on 22nd January 1916.