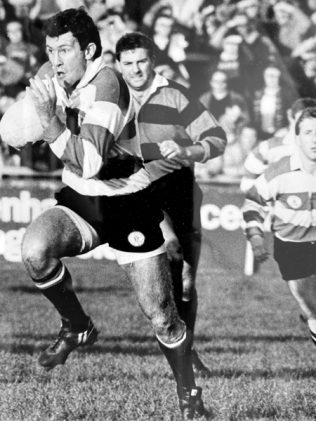 Ruari Maclean was an intuitive inside centre with good distributive skills who scored 19 tries in 95 First XV appearances for Gloucester over the four seasons 1985-89. He was born on 27 September 1961 to Welsh parents of Scottish descent. At 15 he was scouted by Steve Kember, a professional footballer at Chelsea FC, and spent 6 months on their books until he chose the rugby pathway.
In 1983, as a student at Cardiff Met, he captained the Welsh Students Rugby League XIII from loose forward to a win over their English counterparts and was also a member of the Union side that won the BUCS Cup. He fulfilled a boyhood dream by guesting for Llanelli Scarlets and playing with his boyhood hero, the late, great Wales and British Lion, Ray Gravell. A month later he was a member of the Scarlets squad that won the Old Belvedere International 7s Tournament in Dublin.
His first teaching job was at Pates GS, Cheltenham, where he worked with ex- Gloucester and England scrum half Peter Kingston and taught Bruce Fenley and Chris Raymond, both of whom went on to play for the Cherry & Whites.
On joining Gloucester in 1985 an injury to Richard Mogg saw Ruari go straight into the 1st XV where he played 33 times in his first season. That team had a run of 20 wins on the trot and won the John Smith's Merit Table under John Orwin's leadership.
The following season Maclean was selected for the Anglo Scots in the Scottish Divisional Championship.  In 1987 France toured Scotland a few months after appearing in the inaugural World Cup Final but were well beaten by the Anglos, propelling Ruari into the Scotland squad where he stayed for the next five years.
He toured Zimbabwe in 1988 where they won both Test matches (non-cap) and went to Japan a year later where they lost the one Test (also non-cap). In those tours Ruari  played in 9 out of the 10 games. He also sat on the bench in Paris 1989 for the 5 Nations decider, a time when replacements were only allowed for injury.
He went on to captain the Scotland B team and in total played 15 times with the thistle on his jersey, winning 13 of those matches, all of which were at non-cap level.
After four glorious years at Gloucester where he admits he played his best rugby, a job move took him to Moseley which he skippered in the 1991-92 season. He then was honoured to captain the victorious Barbarians Easter Tour of South Wales with a young Martin Johnson and Neil Back among the party. A month later he led another Baa Baas Tour, this time to Russia.
After this he stepped down from senior rugby and played for Camp Hill in Birmingham, winning the North Mids Cup in 1994 beating Worcester in the final.
After a career in teaching, Ruari is now a published author but is still involved in the game. Of his five children the two youngest daughters play at Bromyard RFC where he helps out with the coaching. They have both been selected for their respective North Mids County teams, displaying far more pace than their father ever had.
In August 2023 the Scottish Rugby Union celebrated its 150th year, coincidentally the same as GRFC, and decided to award retrospective caps to players who were selected for non-cap internationals. So, eventually, at the age of 61, Ruari becomes a bona fide full Scotland International.