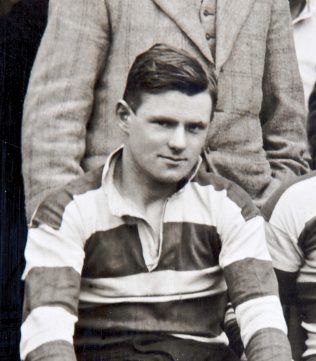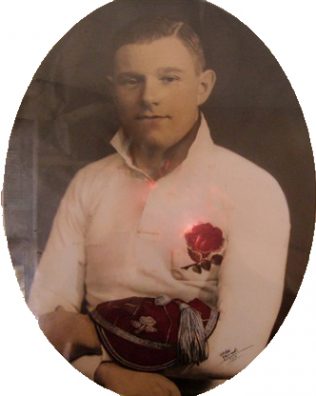 Harold Boughton was born in 1910 in Gloucester. As a schoolboy, Harold displayed wonderful skill and phenomenal distance as a place kicker, and he accomplished some extraordinary performances for the Archdeacon School, who were the local champions and registered some prodigious scores whilst he was playing. On one occasion, appearing at centre three-quarter, he scored five tries and kicked 13 goals – some feat for a lad of 12! Indeed in 1923-24-25 the Archdeacon School, with Harold as their star player, were undefeated for three seasons, during which they registered 2,150 points against a mere 26.
He had full confidence in his ability at that early age, an attribute which was strikingly apparent throughout his whole career. Representative honours came early in his career. Playing for Gloucestershire Schoolboys in their 12-3 victory over Devon in February 1924, he was reported to be "easily the most conspicuous player, his display being one of the outstanding features of the game".
He went on to win caps at full-back for the England schoolboys team, and was captain in 1925 when they gained a rare victory over the Welsh boys, by 6 points to 3 at Leicester. Indeed Leicester was a happy hunting ground for Harold that year – he was also in the Gloucester Boys team which went up there and defeated the youthful Tigers by 32 points to 5.
By the time he was 16 years old, Harold had grown into a substantial young man, and made 17 appearances for the Gloucester A team, which lost only three games in the 1926-27 season. Harold contributed 19 tries and a conversion. Before the season was over, he was handed the opportunity to make his debut in senior football as a result of the illness of G Thomas, the regular City full-back.
His first match was a testing one against Llanelly, but the youngster showed his mettle. Gloucester, as usual at Stradey Park, were defeated, but Harold gave a fine display, and earned full marks from several Welsh critics. He played four more games for the First XV that season, and made sufficient of a mark to be identified as one who would go further in the game. WB wrote in the Citizen: "at the end of the season, Harold Boughton was given a fair trial, and the ex-schoolboy international shaped so well as to give every promise for the future. Though only 16 years of age, Boughton is a hefty lad. A fine kick with either foot, he has plenty of confidence and possesses that sense of anticipation so valuable in a full-back. Boughton should in due course become Gloucester's regular custodian, and if he continues to develop still higher honours should come his way."
The following season, 1927-28, he took over regular duty at full-back for Gloucester, a position he was to hold for many years to come, making 32 appearances and kicking 38 conversions and 6 penalties for 94 points. WB summed up his season as follows: "at full-back, Harold Boughton, except for a period when injury kept him out of the game, was the regular custodian, and he played many brilliant games. Early in the season he had an occasional lapse in the matter of fly-kicking, but he rid himself of this weakness and for the most part was thoroughly sound and consistent. Particularly safe in fielding and gathering the ball, and possessing a sense of anticipation invaluable to a full back, Boughton was rarely at fault, whilst his kicking, either foot, was exceptionally good. After his mishap against the Harlequins, Boughton lost some of his driving force, but his judgment improved, and his tactics and general defence denoted a class player. Boughton was a valuable asset to the Club in the matter of goal kicking, and his record was a highly meritorious one."
Harold's excellent form continued through 1928-29, and his contribution in scoring reached new heights, 36 appearances producing 133 points from 42 conversions, 15 penalties, and one dropped goal. He made his debut for the County against Glamorgan at Cardiff on 10th October 1928, soon after his 18th birthday. He contributed four conversions in a 26-9 win, and played in his first County Championship game against Cornwall at Redruth on 1st December 1928, a hard fought 6-5 victory. He remained in the team against Somerset and Devon.
1929-30 was just as good with 124 points from 44 conversions, 11 penalties and a solitary try in the course of 32 appearances for his Club. Indeed this try, scored against Bath in a 3-3 draw at Kingsholm on 27th December 1929, was a collector's item, since it proved to be the only one in his long career. He won four more caps for Gloucestershire, kicking points against Somerset and Cornwall, before making a decisive contribution with three penalties against Middlesex in the semi-final at Twickenham securing a 12-6 victory. The final against Lancashire was played at Blundellsands on 8th March 1930, and Harold kicked two conversions as Gloucestershire won their sixth Championship 13-7. Harold was selected to play in an England trial, kicking three conversions for the Whites v the Colours. He was then selected for the Rest in the final trial at Twickenham on 21st December 1929, but England won 29-7, and he was not awarded an international cap, although he clearly remained in the selectors' minds, and it appeared only a matter of time before he won international honours.
In 1930-31, Harold was less available for Gloucester, because of representative commitments, and scored 61 points for from 15 conversions, nine penalties and a dropped goal. WB recorded that "Harold Boughton was not so consistently brilliant at full-back as last season, but he had many good days, and played all through the Championship matches for Gloucestershire, and was reserve in attendance for England at Murrayfield for the Calcutta Cup. The coveted cap has eluded the Gloucester custodian so far, but though old in experience, he is young in years, and perhaps next season?" Indeed, Harold won six further caps for Gloucestershire, as they retained their Championship title. In the final, they were perhaps fortunate to win a game in which they were outplayed for much of the match, but Harold provided a resolute last line of defence and converted both of his team's tries as they squeezed home 10-9 against Warwickshire.
In 1931-32, Harold played regularly and well for Gloucester, notching up 26 appearances, and scoring 73 points from 23 conversions and nine penalties. WB summarised his season: "Boughton, at full-back, had a few lapses, but on the whole well maintained his reputation as one of the soundest custodians in the country. He again appreciably helped the aggregate points with his successful goal-kicking, though not approaching his wonderful records of 1928-29 and 1929-30." He played in the first County Championship match against Devon, but Gloucestershire lost heavily and Harold was dropped for the next game. Gloucestershire turned their season round and went on to retain their title, but without making any further use of Harold's services. The England selectors also ignored him, and it seemed that his chance of international honours was gone.
Injury disrupted his season in 1932-33, so that he managed only 16 appearances for Gloucester, scoring 64 points from 26 conversions and four penalties, and remained out of the County side. WB reported: "Harold Boughton was out of the team at full-back for a long time. When he came back he displayed all his old form, and in the matter of goal kicking Gloucester were aided appreciably in points."
Injuries and the calls of the County again limited Boughton's appearances in 1933-34, but he played in 23 matches, and WB was delighted to report that he once more topped the list of points scorers "with 110, made up of 49 goals (39 conversions, two dropped, and eight penalty) – a splendid record considering he missed 17 matches during the season. Boughton's successful goal kicking won more than one game for his side, and in this department alone he was invaluable. His form varied little, and in several games he reached a standard little short of international class. His soundness gave the greatest confidence to the team, and all round he was rightly appraised among the best club full-backs in the country. His goal-kicking was one of the features of the Club's work."
When Gloucestershire again lost their first Championship match to Devon, Harold was restored at full-back for the next fixture, and retained his place right through to the Championship final. In the semi-final he contributed a penalty goal in the narrow 10-9 victory over Hampshire at Boscombe. But there was disappointment in the final at Northampton, when East Midlands prevailed 10-0.
Harold had a good season for his Club in 1934-35, contributing 134 points, made up of 48 conversions, ten penalties and two dropped goals, from 24 appearances. He remained in the County side to win a further four caps in 1934-35, but they failed to progress from the group stage. The England selectors continued to shun his claims, and selected six alternative full-backs during the trial matches, but none of them proved satisfactory. Nevertheless, when it came to the first international of the season against Wales on 19th January 1935, there was considerable surprise and astonishment when the selectors turned to Harold.
W B reported in the Citizen that: "It was at the request of Mr. Tom Voyce that one of the England "Big Five" visited Kingsholm three weeks ago to watch Boughton, and although no information was sought after the Northampton match as to the selector's views, it was generally agreed the Gloucester man had made a good impression. The fact that Boughton was not included in the final trial did not mean that he was out of the running, and with Gerrard, Ronald and Barr failing to give satisfaction last week, the way was open for Boughton's inclusion. And I feel pretty certain he will justify his selection."
Outside of Gloucester, "T L J" of the Birmingham Post was one of the few critics who advocated Harold's claims to the full-back position for England, commenting: "Boughton, one suspects, is a player who became forgotten. It is true that he has received an international trial, but that was a long time ago, and most followers of the game, even in the West, must have arrived at the conclusion that his chance had come and gone. It was Boughton's misfortune to come into prominence at about the same time as T W Brown, of Bristol, and, as everyone knows, Brown got the preference of the selectors. It is unlikely that Boughton will let England down. He is a full-back of considerable experience by this time, and it will be in his favour, when making his international debut, that he is thoroughly accustomed to facing Welsh forwards. There is nothing spectacular about Boughton's style. Neatness and accuracy are his watchwords, and his sense of position is so well developed that he never appears flurried. His play has no ragged ends, for his instinct for tidiness borders on the fastidious. Boughton will not thrill the crowd like Owen-Smith nor compel their admiration in the manner of Brown, but he will be on the spot all right."
"Astral" of the News Chronicle also recognised Harold's strengths: "Boughton, who gets in without even being tried, is a very fine full-back, and probably has no equal as a touch-finder and goal-kicker. He is very adroit in the art of positioning, and his experience of three county championship finals for Gloucestershire should serve him in the more important occasion of an international game."
However, other London critics were less complimentary. For example: "Nobody, so far as I can gather, was prepared for the selection of Bougton as full-back for England. Six players have been tried in the trials, Kinnersley, Baillon, Parker, Ronald, Gerrard and Barr, and the first-named was, to my mind, the best of the lot, and should have been given his cap."
WB held forth on the eve of Harold's first England cap: "Harold Boughton's selection for England against Wales, at Twickenham next Saturday, came as a big surprise to London press critics, but the failure of the three players tried out in the final trial paved the way for the entry of the Gloucester full-back into international football. It is a distinction thoroughly merited. The honour paid Boughton is rather belated. He has been in the front rank of custodians for the past five years, but always just failed to gain the coveted recognition. Now he has secured the favour of the selectors without being called upon to appear in the trials – a significant appreciation of his ability.
He has the big match temperament, and some of his best performances for Gloucester and the County have been given at the Rugby Union headquarters. One notable instance was in the semi-final for the County Championship against Middlesex, when he gave a splendid all-round display and won the match for Gloucestershire by kicking three penalty goals. I rank him in the first flight of full-backs in club football for soundness, reliability, and length and judgement in kicking either foot. A certain slowness in movement is one of his failings, but wonderful anticipation and positioning make up a good deal for this deficiency.  Under pressure, perhaps, Boughton is seen at his best, and his performance against the Cornish forwards at Camborne recently, on a terrible playing pitch, was outstanding."
So, Harold won his first England cap against Wales at Twickenham on 19th January 1935 in front of 70,000 spectators, a record crowd. Before kick-off, the teams were presented to the Duke of Kent. It turned out to be a triumph for Harold, who played well throughout before saving the game for England near the end. Many of those commentators who had been critical of his selection had to admit that he played a blinder.
The Morning Post reported: "the outstanding English outside was the selectors' surprise choice, Boughton, at full-back. Boughton played a really splendid game, finding a long and accurate touch with either foot, never once failing to field, sometimes in very awkward situations, and tackling and saving magnificently. As he is still only 24, he should be of great future use to his country."
The Birmingham Post: "Boughton was magnificent. Always well positioned, he tackled and saved well, took his catches cleanly, and kicked both with length and accuracy. One was glad that to him was given the penalty kick that saved the game."
The Daily Sketch: "from England's point of view, the most pleasant feature of the match was the play of H Boughton at full-back. He was brought into the team after six other men had been preferred to him in the trials, and his selection was regarded as a desperate gamble. The gamble paid handsomely. The hottest bombardment left him unperturbed. Everything he did was deliberately calculated, and yet carried out quickly. He went down gallantly to the rushes, and his long kicking brought salvation time after time."
The Daily Herald: "Boughton alone stood up to the Welshmen, his touch-finding being as good as any back's at Twickenham, and though Vivian Jenkins was by no means poor, he did not impress as Boughton did. Here endeth the selectors' long search for a man they did not find in the trials."
With ten minutes to go, England were three points down, when they were awarded a penalty, and WB described the tense situation: "the position was a favourable one, and when I saw Kendrew (the England captain) call up Boughton to take the vital shot for goal. I recalled many goals the Gloucester man had kicked from more acute angles. Boughton, in an interview, described the moment as the "worst in my life; the fact that the result of the match depended on my kick was rather frightening". To me, Boughton appeared the coolest man on the ground, despite the tension, and he set about the preliminaries of placing the ball as casually as in a club match at Kingsholm, It was a fine goal, and the cheering which greeted the effort was terrific. The Gloucester man had something to be proud of in his first big test, and altogether it was a red letter day for the old Archdeacon schoolboy." Harold had salvaged a 3-3 draw for his country.
Following this triumph, Harold retained his place in the England team for the next international against Ireland, when he was described as "the same cool, calculating full-back", who kicked three penalties and a conversion, thus contributing eleven of England's points in their 14-3 victory. WB commented: "Spectacular or fancy exploits are taboo to Boughton, and this in a large measure makes for that confidence his presence always gives to a side in Club, County, or International matches."
In the next match at Murrayfield, against Scotland, he did not meet with the same success with his kicking, but he fully maintained his reputation as a reliable and sound full-back.
In 1935-36, injury again intervened for a while, but Harold turned out in 26 Gloucester games, scoring 107 points from 35 conversions, 11 penalties and a dropped goal. WB reported that "for the fifth season in his distinguished career, Boughton topped 100 points in goal kicking and reached his 1,000 points for all matches since his connection with the Club – a wonderful feat and probably a record in first class Rugby Union football. Boughton did not start the season any too well. And it was not until his return to the team, after his injury against Cornwall, that he found his true form. But in the second half of the season he gave displays equal to anything he accomplished when capped for England. In three successive games his goal kicking saved Gloucester from defeat, and he won the match against Llanelly with a successful conversion from near the touch line."
Harold played for Gloucestershire and Somerset against New Zealand at Bristol on 3rd October, which the All Blacks won comfortably 23-3. He remained a County player throughout their Championship campaign, but a narrow defeat 5-7 against Cornwall at Kingsholm on 14th December 1935 saw them lose the group, and proved to be Harold's last game for Gloucestershire.
Harold decided to take a break from rugby in 1936-37, and only played in nine matches, scoring 37 points, for the Club, who were left uncertain as to whether he was going to retire permanently. They therefore accepted the services of Grahame Parker as the regular full-back. Parker also took Harold's place in the County side.
However, Harold regained his appetite for the game and got his boots out for the 1937-38 season. He was back to his best as he scored 123 points from 28 conversions, 21 penalties and a dropped goal, from 27 appearances. Parker continued to occupy his position in the County side, but WB concluded in his end-of-season review: "to the forwards once again Gloucester were mainly indebted for the many successes secured, aided considerably by the fine goal kicking of Boughton, who had returned to his old position at full-back, and who for the fifth time in his career scored over 100 points (123 to be exact) for the Club, and brought his aggregate to 1180. Boughton, at the outset of the season, made no secret of his resolve to demonstrate that he had lost none of his form and was worthy to continue in the position he held for so many years. And he proved it conclusively, for in addition to his value as goal kicker and match winner he maintained a consistently high level of play and was rarely at fault. "
Harold was elected as vice-captain for the 1938-39 season, but suffered leg trouble which necessitated his resting from a number of matches. In his 25 appearances he compiled 72 points, and WB commented: "it is fairly safe to assume he would have gathered his 100 for the sixth time had he been available regularly. I have already referred to Boughton's wonderful goal kicking record; if he has slowed down in general movement owing to the trouble mentioned, he still retains that soundness and reliability which have kept him in the forefront of full-backs in the country. Gloucester badly missed his place kicking in more than one game, when points would have been invaluable. Boughton's service extends over 11 seasons and he has set up a goal kicking record unapproached by any previous player, and excelled by few if any in Rugby Union football in the country. This season five victories (Bristol twice, Oxford University, Blackheath and the United Services) have been placed to the credit of Gloucester directly through Boughton's successful goal kicking."
In 1939-40, Gloucester arranged a series of matches in which Servicemen training in the district and local players combined under the leadership of Carpenter. For the second season the City continued on the same lines, with Harold Boughton in charge of the side, but lack of players eventually forced a cessation of club fixtures for the next four seasons.
When rugby resumed after the war in the 1945-46 season, Harold, now aged 35, was elected captain, and being a bus driver by profession, when necessary he drove the team bus to away matches.  He played in 29 matches and scored 121 points from 35 conversions and 17 penalties, and retired at the end of the season.
However, he answered the call yet again, coming out of retirement on 12th October 1946, when Gloucester's first choice and reserve full-backs were unable to travel. He kicked a conversion and a penalty, but it was not enough to prevent Gloucester going down 8-20 to Cardiff, and this proved to be his last appearance for the Club. His final record for the Club was 335 appearances and 1258 points, from one try, 400 conversions, 141 penalties and eight dropped goals.
As a boy, Bill Hook watched his brother Bob play in the centre for Gloucester and Gloucestershire, with Harold behind him at full-back. Bill, who was later to follow in Harold's footsteps as full-back for Gloucester, Gloucestershire and England, reminisced that "Harold was a very fine full-back. He was extremely slow, and wouldn't have been much good in today's game, but I say that with respect because his positional play was absolutely tremendous. He was never caught out of position – whoever kicked he was under the ball. You never saw him running, but he was running when you weren't watching. His anticipation was absolutely first class."
Harold died in July 1986 in Bristol.