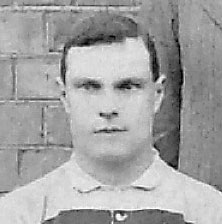 George Henry Griffiths was born in 1884 in the parish of St Nicholas, Gloucester, the son of an iron foundry labourer. In 1891 and 1901, he was living with his parents at 8, Worrell Street, Gloucester, and in 1901 was employed as an iron foundry labourer by Butt and Company of Gloucester. However, later that year he signed up as a Private in the Gloucestershire Regiment on 13th August 1901. He was aged 18 years and 5 months, and described as 5 feet 6¾ inches, weighing 136 pounds, with a fresh complexion, grey eyes, dark brown hair and a birth mark on his left arm. In April 1902 he was transferred to the 1st Battalion, Gloucestershire Regiment, which was stationed in Ceylon, guarding Boer prisoners of war.
George was back in Gloucester in 1905, when he married Kate Cecilia Bishop.
He made his breakthrough into the Gloucester 1st XV in 1907-08, when he made 9 appearances. He had a baptism of fire in his first game for the Club away at Swansea on 29th February 1908, and tasted defeat by 3-11. George scored his first try for the Club in a 19-3 win over Pill Harriers at Kingsholm on 29th February 1908. He had caught the eye sufficiently to warrant a mention in  WB's end-of-season review – "Berry and Griffiths found places in the later matches, and both shaped so well that they should have little difficulty in maintaining their positions another season".
The following season, 1908-09, George established himself as a first choice player for the Club, and appeared in 31 of the Club's 37 fixtures as a back row forward. At the end of the season WB commented "three splendid forwards were discovered in Griffiths, Holford and Wyburn – young, speedy, clever, and good workers".
In 1909-10, George played in 20 of the Club's 38 fixtures. On 20th November 1909, he scored his second try in a 29-6 victory over Stroud at Kingsholm. WB commented that "G Griffiths was unlucky in the matter of injuries and illness, but in the matches he took part in he rendered good service".
1910-11 saw George play in 28 out of 40 first team fixtures. His third and final try for the club came on 10th September 1910 during a 61-0 demolition of Stroud at Kingsholm. The highlight of the season for George and the rest of the Gloucester team was a trip to Toulouse, which took 6 days to complete – one of the players described it as "the time of our lives". The Gloucester party travelled for three days with overnight stops in London and Paris to reach Toulouse. Gloucester won the game played at the Stade Toulousain on 28th February 1911 by 18 points to 13, The Toulouse club entertained them royally that evening, and the players took another 2 days travelling home. They may have been exhausted when they arrived back in Gloucester late on Thursday evening, but they had a match to play against Swansea on the Saturday, and they even managed to win it, 13-6. At the end of the season, WB commented "the other older members of the pack – Holford, Berry, Wyburn, Pegler and Griffiths – worthily sustained their reputation".
In 1911, George was living at 60, Alvin Street with his wife, Kate, and their three children, Reginald, Mildred and Mabel. By the end of 1911 he had left the Army, although still on the Army Reserve, and worked as an Iron Steel Driller at Messrs Fielding and Platt Ltd in Gloucester. By the outbreak of war in 1914, the family had moved to 68, St Catherine Street.
George appeared in half of the Club's fixtures in 1911-12, 20 out of 40.
1912-13 was George's last season with the Club, and he made only 3 appearances. His last game was in a 36-0 victory over Clifton at Kingsholm on 2nd November 1912. He finished his career with 111 appearances and 3 tries (plus 24 appearances for the 2nd XV).
At the outbreak of the Great War, George, as a Reservist, joined the 9th (Service) Battalion, Gloucestershire Regiment at Gloucester, but with his military experience was transferred to the 2nd Battalion, Gloucestershire Regiment and as a Private, and went to France on 20 January 1915. In April 1915 he was invalided home with a badly twisted ankle, and he went to stay with his father who was by then living in Newent. On recovery he was transferred to the 10th (Service) Battalion, having been promoted to the rank of Lance Corporal, and again landed in France on 8 August 1915. George died on the Somme on 4th April 1918, aged 34 years, during the German Spring Offensive. His body was never identified and he is listed as missing and commemorated on the Pozières Memorial.
[I am grateful to Chris Collier for providing the career statistics, and to Martin Davies for the military and family history details, contained in this profile.]